The map below is for your reference only – the module material starts below.
Use the map to get an idea of the location of Norway's five main regions: Eastern Norway, Fjord Norway, Northern Norway, Southern Norway, and Trøndelag.
Eastern Norway is where you find the capital Oslo, some of the highest mountains in the country, and a number of well-developed ski resorts.
The most well-known Norwegian fjords can be found in the region known as Fjord Norway, located in the western part of the country.
Northern Norway is the place to go for the midnight sun and the northern lights. Tromsø is the most well-known destination, but there are many others worth a visit!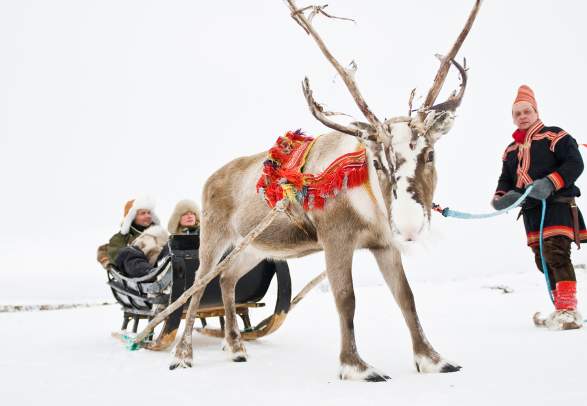 Join a dogsled expedition, learn to throw a lasso, and experience the Sami culture first hand in Karasjok and Kautokeino.
Read more
Land of the Sami
Known as Norway's Riviera, Southern Norway is the most popular summer destination for Norwegians. It is great for family holidays with water activities.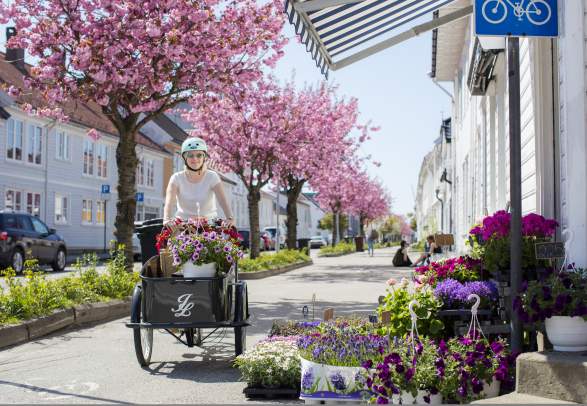 Explore urban beach life in Norway's southernmost city! Kristiansand has a vibrant cultural scene and exciting activity parks and museums.
Read more
Kristiansand
Trøndelag in central Norway is perfect for history and Viking experiences, but also for everyone who is interested in Norwegian nature, local food and cultural events.
Statens Kartverk, Geovekst og kommuner - Geodata AS
Eastern Norway is where the capital Oslo is located. In the rest of the region, you will find vast recreational areas with national parks and skiing destinations.
Oslo
Norway's capital currently has around 700,000 inhabitants. As one of the fastest growing cities in Europe, there is a great deal to discover in terms of nightlife, culture and festivals.
One of the unique selling points of the city is the combination of a lively city life and tranquil nature. The deep forests that surround the city centre are only a short tram ride away. In 2019, Oslo was named European Green Capital thanks to its dedication to fight pollution and preserve green areas.
Top city picks
New architecture and design
Interesting food and restaurants
Nightlife, live music and festivals
Art and culture
Outdoor activities in Nordmarka forest area
City skiing at Oslo Skimore
Outside Oslo
Within a few hours' drive from Oslo, you can reach some of Norway's most cherished areas for recreational activities:
Outdoor adventures in the Jotunheimen national park, with more than 200 mountains over 2,000 metres (6,561 feet)
Large resorts like Geilo and Trysil for skiing in the winter and mountain biking, hiking and fishing in the summer
Classic hiking routes like the Besseggen ridge
Norway's highest mountain Galdhøpiggen (2,469 metres / 8,100 feet above sea level)
Norway's largest lake Mjøsa
Several other recreational outdoor areas, including Norway's first national park Rondane and the Gudbrandsdalen valley
Strong food traditions with lots of local food producers and farms where you can try specialities from the region
The historic Telemark canal, built in the 19th Century
The Olympic town of Lillehammer, known from the TV crime series Lilyhammer
Find extra information br> on Visitnorway.com
Norway has more than 1,000 fjords spread across the country, but the most famous ones are located on the west coast in the region known as Fjord Norway.
Main cities
There are several cities scattered along the west coast, ranging in size from 24,000 to 250,000 inhabitants.
Each city has its own cultural gems and easy access to nature, as well as international airports.
Top city picks
The medieval wharf Bryggen in Bergen, which is Norway's second biggest city
Natural wonders like Preikestolen and Kjerag near Stavanger, which is also known as one of Norway's best food cities
The Art Nouveau architecture and the Atlantic scenic road of Ålesund
The Viking heritage in Haugesund
Fishing in Kristiansund
Outside the cities
Norway's fairy-tale fjord landscape was created during a succession of ice ages. Since then, it hasn't changed much.
The region is full of cute fjord villages surrounded by mountains, glaciers, waterfalls and valleys. They all have their own local traditions and culinary specialities.
Fjord highlights
The UNESCO-protected Geirangerfjord
The Sognefjord: the longest and deepest, called the "king of the fjords" and its well-known sidekick the Nærøyfjord
The Hardangerfjord with the fruit orchards
The Lysefjord with the striking cliffs Preikestolen (the Pulpit Rock) and Kjerag
The Aurlandsfjord by the village of Flåm and the Flåm Railway
Nordfjord with the Loen skylift, glaciers, and the Skåla mountain
Believe it or not, people have lived in Northern Norway for thousands of years, most likely thanks to the relatively mild climate, ice-free harbours and excellent fishing possibilities. Fishing is still important in the villages, which are characterised by colourful wooden buildings and surrounded by craggy mountains.
Main cities
Northern Norway is the largest but also the most sparsely populated region. It is not all wilderness however – there are a few cities, all worth visiting for their selection of natural and cultural experiences.
Top city picks
City life, food and culture in Tromsø
The world's strongest tidal current Saltstraumen in Bodø
Winter activities in Alta, known as "the city of northern lights"
Sami culture in Karasjok and Kautokeino
Outside the cities
Northern Norway is often called one of Europe's "last wilderness areas", and for a good reason. The region presents unique opportunities for experiencing untouched nature and taking part in activities like hiking and fishing, dog sledding and snowmobiling. Many people come to enjoy the midnight sun or the northern lights.
Highlights
The Lofoten Islands – fairy-tale surroundings with clear fjords, jagged mountains and adorable fishing villages
Vesterålen – this group of islands close to Lofoten is particularly known for its rich wildlife, including whales
The North Cape – this iconic cliff is the northernmost accessible point on mainland Europe
Helgeland – a stunning area along the coast which is perfect for nature activities like cycling and kayaking
Sami culture – Norway's indigenous population
Svalbard
Svalbard is a group of islands in the Arctic Ocean, halfway between Norway and the North Pole. The main town is Longyearbyen with around 1,900 inhabitants.
Thanks to regular flights from Norway, Svalbard's Arctic landscape and wildlife has become easily accessible. The flight time from Oslo is around three hours.
Highlights:
Summers with 120 days of midnight sun
Winters with northern lights and the polar night (the period when the sun does not rise above the horizon)
Arctic wildlife – Svalbard has around 3,000 inhabitants, and around 3,000 polar bears.
Known as "the Norwegian Riviera", Southern Norway is the southernmost region in the country. It is the obvious summer holiday destination for many Norwegians, known for its picture-perfect coastline, the typical white-painted wooden houses, and idyllic boating and bathing spots.
It is still relatively undiscovered by foreign tourists, so anyone who wants to experience a genuine Norwegian summer holiday in the archipelago is recommended a visit!
Kristiansand
The main city in Southern Norway is Kristiansand with over 60,000 inhabitants.
Top city picks
Kristiansand's family-friendly, sandy beach Bystranda is one of five Norwegian beaches with the sustainability award "Blue Flag"
Known as "the children's city"
Outside the city
Southern Norway is a great family holiday destination with lots of attractions and activities the kids will enjoy. There are plenty of outdoor activities on offer: hiking, cycling, fishing, climbing and family-friendly skiing in the winter. Setesdal, around two hours by car from Kristiansand, is worth a visit for several reasons. Above all, it's great for everyone who is interested in Norwegian folk traditions. The local folklore has even earned Setesdal a spot on UNESCO's List of Intangible Cultural Heritage.
Highlights
Kristiansand Zoo
The vintage railway in Setesdal
Family rafting
Trøndelag in central Norway is often called Norway's historic centre. This is where the battle of Stiklestad took place in 1030, when the region's main town Trondheim became Norway's capital. The battle marks the end of the Viking Age and the country's transition to Christianity.
The region also prides itself on its local food traditions, no less than seven national parks and a beautiful coast with plenty of fishing opportunities.
Main cities
The two main cities in the region are Trondheim and Røros. Trondheim is a lively student town with plenty of cultural activities, festivals and restaurants. Røros is a small mining town which is famous for its preserved wooden buildings, many of which go back to the 17th century.
Many visitors use Trondheim and Røros as a base for hiking, fishing and cycling excursions in the surrounding areas.
Top picks in Trondheim
The medieval Nidarosdomen Cathedral, which is still a popular destination for pilgrims
The vibrant cultural life with festivals, live music and restaurants as well as the music museum Rockheim
The annual Trøndelag food and brewery festival
Bymarka, a vast recreation area with hiking paths in all directions, is only 20 minutes by tram from Trondheim
Top picks in Røros
A UNESCO heritage site and one of the oldest wooden towns in Europe
Founded in 1644, this mining town has retained much of its original character
The Christmas and winter markets in December and February, respectively
Lots of independent shops and artisan workshops
A leading destination for locally produced food
Outside the cities
With a varied landscape, the Trøndelag region offers activities from fishing and boating to skiing and hiking in the mountains. The region has no less than seven national parks, so if you have clients who enjoy getting close to nature, Trøndelag is a great suggestion. Just be careful not to get too close – the area is one of few places in the world where musk oxen roam free. These majestic creatures may look serene, but they are not to be trifled with, and they are faster than you are!
Highlights
Wild musk oxen in the Dovrefjell mountains.
The wild and beautiful coast, renowned for its good fishing possibilities
The historic site of Stiklestad
Kystriksveien – the Coastal Route, a beautiful scenic road between Steinskjer and Bodø
The Golden Road – certified by Sustainable Destination, located in Innherred
Alert: The following question(s) have setup issues:
* Required
Which Norwegian region should you suggest if a client wants to see the capital Oslo, go hiking in the Jotunheimen mountains or go skiing in Trysil?
Way to go! Eastern Norway is mostly visited as it is where the capital Oslo is located. But in the rest of the region, you will find vast recreational areas with national parks and skiing destinations.
Nope, sorry... Give it another go!
* Required
Fjord Norway has a lot of fjords, of course. But what else is there in Fjord Norway? Select all the alternatives you think are correct.
Awesome! Fjord Norway is full of beautiful nature such as The Pulpit Rock (Preikestolen), fjords, glaciers and waterfalls. But there are also cities like Bergen, Stavanger and Ålesund, which is famous for its Art Nouveau architecture. Since Fjord Norway is located south of the Arctic Circle, it is not possible to see the midnight sun.
Ouch, that's not the correct answer. Try again.
* Required
If a client wants to see the midnight sun and polar bears, which destination should you recommend?
That's right! The Svalbard islands are situated halfway between Norway and the North Pole in the Arctic Ocean. This is a great choice if you want to see the midnight sun, and the only place in Norway if you want to see polar bears – Svalbard has midnight sun 120 days of the year, and there are as many polar bears as people.
Oh dear, we're afraid you didn't get this one right.
* Required
A client wants to experience Arctic wilderness combined with a comfortable stay and a city experience. Which region would you recommend?
Well done! Northern Norway is often called one of Europe's "last wilderness areas". The region presents unique opportunities for experiencing untouched nature and taking part in activities like hiking and fishing, dog sledding and snowmobiling.
Oh dear, we're afraid you didn't get this one right.
In this module, you will learn about Norway's weather and climate (hint: no, it's not cold all the time!).
From natural wonders to cultural highlights, in this module you will learn about Norway's finest sights.
The Pulpit Rock
.
Photo
:
Eduardo Grund / Regionstavanger.com
Read more on visitnorway.com