Explore Tromsø in 3,000 steps
Situated in Northern Norway, the city of Tromsø is an Arctic wonderland, in both summer and winter. There are plenty of experiences for conference delegates. In just 3,000 steps, you can take in amazing views, dine on local delicacies and experience the world's largest aquarium.
Video Thumbnail - vimeo - The Arctic Cathedral in Tromsø
.
Photo
:
Video Thumbnail - vimeo - The Arctic Cathedral in Tromsø
.
Photo
:
Jump right in! Just a few steps from the harbour area you can experience Pust, an arctic sauna. Here you have the opportunity to jump into the sea, which averages a temperature of about 8°C . When you are finished for the day, bond with your colleagues and experience the Scandinavian tradition of combining the heat and the cold. The central location offers spectacular views of the sea and the magical mountains. It can also be the perfect way to kickstart your day.
The Arctic Cathedral in Tromsø
.
Photo
:
Fredrik Ahlsen / Visitnorway.com
The Arctic Cathedral in Tromsø
.
Photo
:
Fredrik Ahlsen / Visitnorway.com
Check out this video about amazing things to experience in Tromsø:
A monkfish meal
During your lunch break, take a stroll along the harbour. Grab a coffee and enjoy the unique, old buildings close to the harbour in the city centre. If you are looking to dine on some traditional food, Monkfish is highly recommended. The dish is often served with corn, chanterelle and a mushroom sauce. Monkfish looks uninviting at best and has gained the nickname of the 'devil of the sea'. But give it a chance, and you will find it is very tasty, extremely nutritious and an incredibly versatile fish.
World's largest Aquarium
If you get a long break during your conference or have the opportunity to stay a day longer, the Polaria is worth a visit. Just a short walk outside the city centre, you will find the world's largest aquarium. Polaria is one of only two places in Europe where you can see a bearded seal up close. At the aquarium you can see, feel, and experience and understand why life in the sea and life on land are completely interdependent.
Polaria has one large and several small aquariums, all containing only northern species. This will give you a unique opportunity to learn about life below sea level in the Arctic. Don't forget to stop by the gift shop where you will find a wide selection of products and gifts.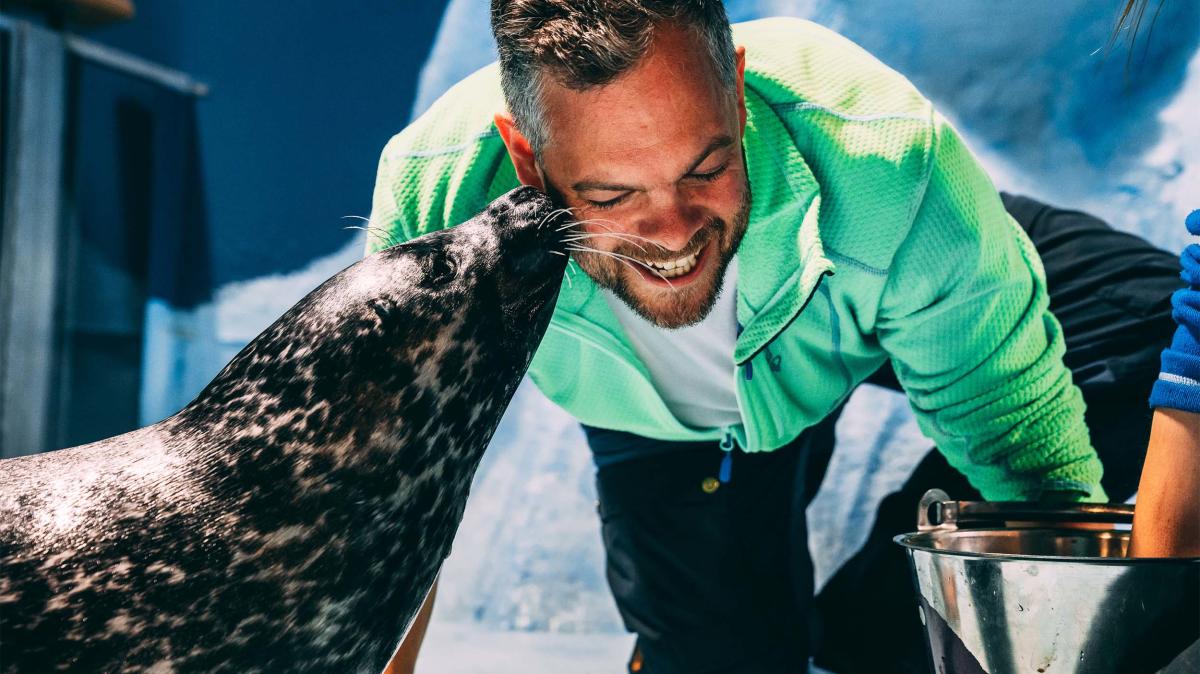 Handcrafted jewellery
You can also find a unique gift for someone back at home, or a souvenir for yourself, at Wabi Sabi, a local jewellery store. Located by the harbour, this unique boutique stays true to its Arctic roots. Every product reflects the Arctic's rugged nature and is inspired by the lively and playful city environment. All Wabi Sabi pieces are handmade at its workshop in Tromsø and no two items are the same. Everything they create is unique.
The beautiful bridge
The Tromsø bridge is a landmark in Tromsø, and located close to all the major conference and event venues. It crosses the Tromsøysundet strait to Tromsdalen on the mainland, where you will find the iconic Arctic Cathedral and a gondola that takes you up to the top of the mountain, where you can enjoy stunning views.
If you are up for more than 3,000 steps, you can hike up to the top instead of taking the gondola. The trail consists of 1,200 stone steps that take you 421 metres above sea level. From the viewing platform you can enjoy spectacular panoramic views of Tromsø and the surrounding islands, mountains and fjords. Fjellstua, the mountain lodge restaurant, offers a variety of local cuisine and an outstanding view. 
Unique boat trips
If you have some time to kill during your conference or are having a breakout meeting, try a unique boat trip.There are several options, from one to seven-hour trips. Embark on the beautifully restored wooden boat, Hermes II from 1917. The boat has a rich history of transporting fish, animals, and building supplies for homes and churches. Today, you can enjoy a cruise of the fjord while connecting with your colleagues. If you have a bit more time, sign up for an Arctic fishing expedition!
Tromsø is rich in history and offers visitors many unique opportunities to experience its nature and culture. Give your team a real Arctic experience when you plan your next meeting, conference or event in this beautiful northern city in Northern Norway.
Tromsø - a top international conference destination
This Arctic Capital is a very lively and friendly city, yet is still cosy and compact with a population of only 68,500. It's less than 2 hours by air from Oslo, but is a completely different world! Activities within easy reach from the city include deep sea fishing on an old fishing boat, snow scooter racing, dog sledding, ice fishing, snowshoe racing, and lunch served in a Sami lavvo (a traditional indigenous tent).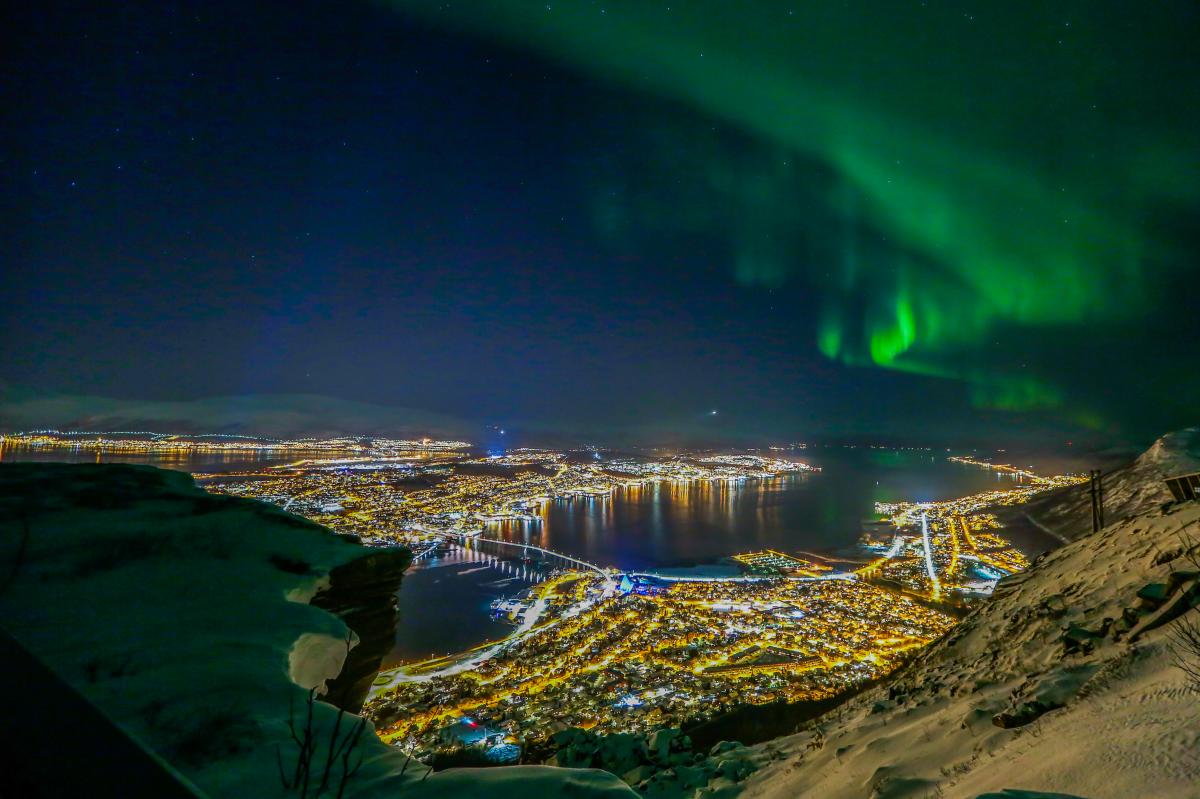 Top highlights: Downtown, how about a private choir performance in the magnificent Arctic Cathedral, a welcome cocktail party overlooking the city at the top of Fløya, at 421 metres high, or a private tour of the northernmost brewery in the world, including beer-tasting?
Largest meeting venue capacity: Margarinfabrikken (1,000 people)
Free non-binding advice and assistance: The Arctic environment, with its combination of urban experiences and Polar nature, is a magnificent destination for your next conference or meeting. Whether a large meeting or a small private venue is required, Arctic Meetings takes pride in delivering a successful meeting in the Arctic, right down to the smallest details. Planning a conference is a complex process requiring care and organisation of many different components. The group ensures a smooth implementation to save you time and hassle, and provides a truly professional experience in every aspect.
Travel in Tromsø: The Airport (TOS) is only 10-15 minutes from the city centre. Flights from Oslo take approx. 1 hour 45 mins. The city bus in Tromsø runs from early in the morning until late at night weekdays. You can also find night buses that run from the centre late in the evenings on weekends.
Key facts about conferences in Facts about meetings in Norway
Easy access
Norway is a big country, with considerable distances between the major cities. Luckily, there are good bus and train connections between all the major cities and towns. In addition, there are many airports scattered all over the country. Oslo is the main air travel hub, with daily connections to most places in the country, and many direct flights to international destinations. For more detailed information, check out our transport page.
Competitive pricing
Contrary to popular belief, hotels and other accommodation venues are not exceptionally expensive in Norway. On the contrary, prices are similar to the rest of Europe. Read more about Norway's excellent value for money.
Sustainability
Norwegians love to spend time in nature and protect the environment as much as possible. Green travel, transportation, accommodation and gastronomy can be found all over the country and are a priority for many businesses in Norway. Read more about sustainability in Norway.