Imagine you generated more than 70,000 engagements in social media and more than 3,000 online articles in one week. Imagine that the content promoted something that had real value for the world we live in, and it actually engaged (almost) an entire country. Now, imagine that you didn't even spend a dollar on it. That's the power of viral marketing. 
Turbulent times can sometimes produce stellar creative ideas, as General Motors proved with their Super Bowl ad campaign featuring actor Will Ferrell – and that has shone a bright light on Norway as the envy of the world for its electric-vehicle adoption. General Motors creative efforts allowed Visit Norway to blend in standout creatives, savvy responses and PR to break through the noise - leading up to one of the most watched television events of the year. 
Just days before campaign kickoff on February 1st 2021, Team Norway - Innovation Norway in New York aligned with the Norwegian Embassy in Washington, D.C, the Ministry of Foreign Affairs in Norway and the Prime Minister's office in Oslo - collectively crafted a thoughtful game plan to General Motors planned campaign. We were briefed by GM's team, so we knew that their concept focused on GM's vision of all-electric car production as of 2030, and that it would align really well with Norway's development in this space and our existing solutions for a sustainable future.  
 

General Motors' video spots shows Will Ferrell being obsessed with the fact that Norway has outdone the US with our high number of electric vehicles, and campaigns to "beat" Norway as he invites Awkwafina (Crazy Rich Asians) and Kenan Thompson (Saturday Night Live) to travel in their GM electric cars to Norway to intercept. The main spot aired during the Super Bowl in front of millions of viewers - many who admittedly watch mainly due to the commercials. Norway is very visible and is mentioned several times in the video, so this was a great opportunity for us to position Norway and our sustainable solutions. 
Here are 5 Highlights: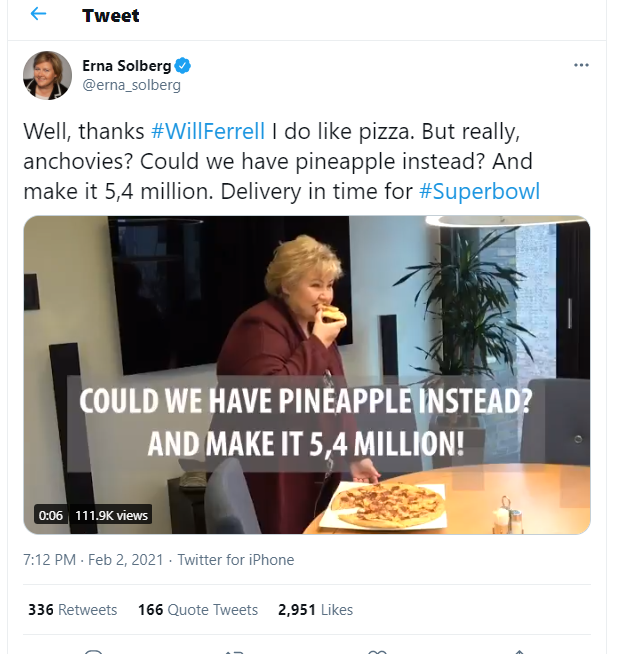 Prime Minister Erna Solberg tweeted video response with pizza to Will Ferrell / GM
 
Strengthened Team Norway Collaboration 
Our close collaboration with the Norwegian Embassy in DC, the Consulate Generals, The Prime Minister's Office, and US Embassy in Oslo – has further strengthened Team Norway ties, provided positive synergies, and forged renewed and important diplomatic links between the USA and Norway - as we continue to work steadily on Norway's export strategy. 

 Record High Press Coverage for Norway 
Between February 1-9, we measured 3,397 unique online articles (international), with a potential viewership estimated at 10,6 Billion (Meltwater). Reach estimates the potential viewership of any particular article based on the number of visitors to the specific source on both desktop and mobile. ​ 2,140 of those were sourced from the United States and Canada, and 65 were from Norway. The silver lining was industry recognition of Visit Norway's responses to the General Motors stunt . Our video response was listed as one of the top four in Adweek, as well as very favorable mentions in The Next Web,  Meedia (Germany), and Kampanje (Norway). 

 

3. A Massive Social Media Event 
The campaign generated millions of views on in social media, in Visit Norway's channels alone: 1.8M impressions, a reach of 3.1M, and more than 70K engagements across our owned channels (Facebook, Twitter, Instagram and YouTube) – the majority with a highly positive consumer sentiment. Our centerpiece video, "Where are you, Will?", generated 450,000 views and 22K engagements. 

Visit Norway delivered pizza as a 'thank you' from Norway to Will Ferrell's home and he sent a picture back for us to share online.  #Norway trended in a historic 5th place on Twitter during the Superbowl. Prime Minister Erna Solberg's pizza tweet drew attention to the campaign and the real topic (EVs) in a way no tourism entity could have achieved on their own. 

Other major auto giants (Audi and Ford) joined the banter and engagement, and helped position Norway as an EV winner in the best way possible.   

​The Royal Norwegian Embassy, The Royal Norwegian Consulate General, the US Embassy in Oslo and several prominent Norwegian politicians engaged and shared posts. The Explorer ran a targeted paid campaign towards the US and Norway. Well-known Norwegian companies and organizations also surfed the social media wave – among them Circle K, the University in Agder, Elbilforeningen, Bellona and Kragerø/Visit Telemark and Hurtigruten – with their clever comebacks to the GM campaign, that contributed to the buzz and focus on Norway as an EV nation and sustainable destination.
Team 'Always On' (Never Off) Rocked It 
It should be noted that none of this could have come into fruition without exemplary pivoting, competence, and enthusiasm internally within our Visit Norway team - PR, Social Media, and Stories concept teams – and, with the added backing and cheering by Innovation Norway management. It was all hands on deck - it paid off and we are stronger as a team because of it! 
 

Norway = EV Capital of the World 
As a result, Brand Norway has undoubtedly been strengthened and our stance on an all-electric future has been made visible internationally - and completely without any investment from Innovation Norway – a dream scenario for any brand, and an incredible marketing bonanza for Norwegian EV tech and exports, as well as for tourism. Especially after a year of restricted travel options and lockdowns- this will position Norway as a top of mind destination towards savvy and environmentally conscious travelers, as we will soon be fighting for our share of visitors when travel reopens. 
 
- Full report available upon request -