Kongressbyene og Innovasjon Norge er tilstede på Arendalsuka 2022 og inviterer til seminar om arrangementer i Norge - "Mulighetenes arena"
Møt oss i Peder Thomassons gate 176 og hør hva kongressbyene og Innovasjon Norge kan bistå med, dersom du ønsker å arrangere et internasjonalt arrangement i Norge.

Kongressbyene har lang erfaring med å bistå norske fag-, forskningsmiljøer og forbund med å invitere og søke internasjonale kongresser og arrangementer til Norge. De spiller også en nøkkelrolle opp mot lokale og regionale myndigheter, og bidrar med nettverk, kompetanse og verktøy.
Vi er på Arendalsuka 2022 for å møte politikere, forbund og miljøer som kan ha nytte av vår bistand - og vi hjelper deg helt gratis i planleggingen av ditt arrangement.
---
Program: Arrangementer i Norge - "Mulighetenes arena"
Velkommen
Gunnar Bovim, Styreleder i Innovasjon Norge
Verdens største Elbil kongress ble lagt til Norge i juni 2022, hvorfor ble den besluttet til Norge, hva har det betydd for fagmiljøet, byen, og mijløet generelt?
Espen Hauge, President i AVERE og styremedlem i Elbilforeningen.
Hvilke muligheter kan Kultur- og idrettsarrangementer ha for en region, og hvordan oppnå størst mulig effekter? Hva oppnådde man med VM i Snøsport for parautøvere og hva kan andre lære av dette?
Birgitte Nestande, Innovasjon Norge
Bør det offentlige være en pådriver for konferanser og kongresser? Og hva sitter Norge igjen med?
Jon Askeland, Fylkesordfører Vestland Fylkeskommune
Seminaret passer for kommuner / fylkeskommuner / politikere, organisasjoner, forbund, potensielle arrangører av små og store kongresser, og kultur- og idrettsarrangement.
Ingen påmelding nødvendig.
Vi håper du har anledning til å komme!
Informasjon
Arrangør: Innovasjon Norge, Visit Bergen, VisitOSLO, Møtebyen Kristiansand, Visit Region Stavanger og Visit Tromsø
Dato: onsdag 17. august, kl. 12:30 - 13:45
Arrangementstype: konferanse
Sted: Vision of the Fjords
Kontaktperson for arrangementet: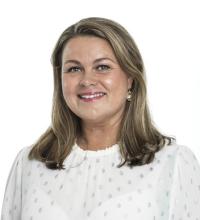 Elisabeth Alethe Bugge
Seniorrådgiver kongress
Ønsker du å vite mer om å arrangere en internasjonal kongress?