Norway is a country which is associated with winter and snow, yet most tourists have little or no knowledge about our vast alpine and cross-country skiing offering and the wealth of snow activities available.

Background
Norway has a long tradition of skiing and winter sports. We claim to be born with skies on our feet and it really is part of our way of life, with children learning to ski from an early age. The small village of Morgedal in Telemark is considered as the birthplace of modern-day skiing.
During the winter months, ski tourists are our most important visitors. Norway is the largest market followed by Denmark and Sweden, but we have plenty of room for more people to experience our many and varied destinations. In addition to skiing, there are a range of other snow activities on offer such as dog sledding, snow shoeing, tobogganing and horse-drawn sleighrides.
Good skiing conditions can be found across the country – even in the major towns and cities! Visitors can go skiing during the day and take in a cultural event in the evening – the perfect short break away!
We would like to invite you to a digital workshop with skiing as the main theme. During the workshop you will be able to connect with skiing destinations and activity providers from across the country offering products relating to winter and skiing. The workshop is open to incoming operators and tour operators in Europe including Russia.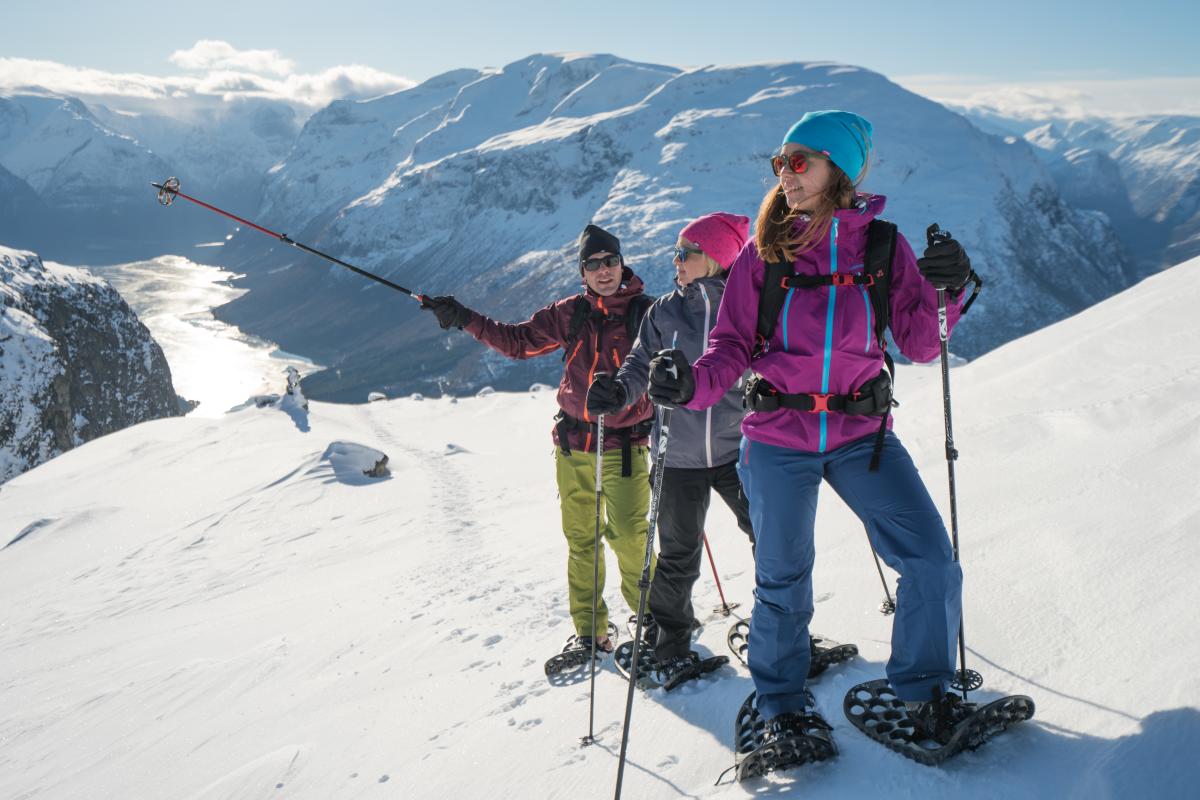 Snow shoeing in Loen, Fjord Norway. Copyright: Bård Basberg/Loen Skylift. 
Optional virtual fam trips
Before the workshop you will have the opportunity of seeing more of Norway and its ski destinations by participating in virtual fam trips. During these tours you will be able to experience selected Norwegian ski destinations and get to better know the facilities and the various providers at the destinations in question. You will be introduced to skiing activities as well as other snow related activities, accommodation facilities, local food and culture, local history, and a lot more.
Programme
8th of February:
Seminar for buyers on theme skiing.

9th of February:
09:00-16:00: Workshop day with online B2B meetings
Programme may be subject to change.
The times are set in Norwegian local time.
Technical information
Dates: 8th and 9th of February 2021
Place: Digital platform
Deadline: 10th January 2021
New deadline: 13th January 2021
View the terms & conditions here
 
Included:
Access to the Product Manual. 
Access to the online booking system.
Access to the digital Famtrips.
Not included: 
You are responsible for access to a computer with audio and camera
Denmark/The Netherlands/Belgium
Ingunn Sakshaug, ingunn.sakshaug@innovationnorway.no
France
Delphine Vallon, delphine.vallon@innovationnorway.no
Germany/Austria/Switzerland
Ulrike Katrin Peters, ulrike.katrin.peters@innovationnorway.no
Italy
Marco Bertolini, marco.bertolini@innovationnorway.no
Norway
Kristin Bennick, kristin.bennick@innovationnorway.no
Russia/Ukraine/Finland
Olga Philippenko, olga.philippenko@innovationnorway.no
Spain
Eugenia Fierros, eugenia.fierros@innovationnorway.no
Sweden
Sandra Olsson, sandra.olsson@innovationnorway.no
United Kingdom/Ireland
Sandra Martinsson, sandra.martinsson@innovationnnorway.no
All other markets
Siri Tallaksen, siri.tallaksen@innovationnorway.no
Get inspired!
Want to know more about Norway as a skiing destination? See the articles below for videos and additional information.