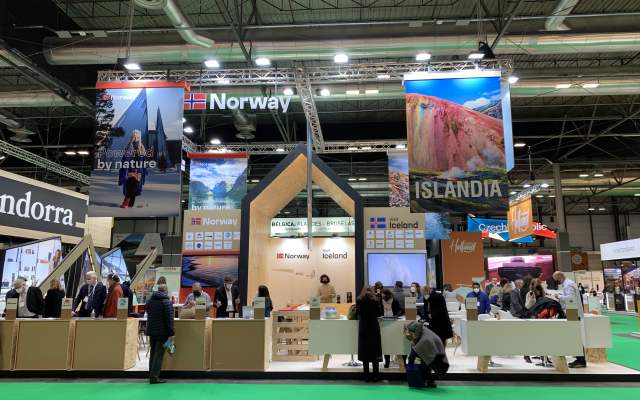 FITUR
.
Photo
:
Visit Norway
FITUR 2023 | Spain
Fairs
January 18, 2023 - January 22, 2023
FITUR is one of the most relevant travel fairs in Europe and the leading event when dealing with Latin American markets.
FITUR 2022 was a success, with figures close to the pre-pandemic period. There were 6.922 exhibitors from 107 countries and a total of 111.193 participants, out of which 80,000 were professionals.
Visit Norway has historically shared a pavilion with the Nordic Countries. In FITUR 2023 the stand will be shared between Iceland and Norway with an excellent location in the Europe Pavilion. Visitors from the travel trade come to gain inspiration, discover new destinations and meet actual or new partners. The Norwegian Stand in Fitur is also an excellent opportunity to meet new prospects in Spain and also from the Latin American markets.
Registration deadline: 17 October 2022
Prices: EUR 3,500 excl. local VAT per company (1 pax)
EUR 3,700 excl. local VAT per company (2 pax)
EUR 1,500 excl. local VAT per company for exhibiting only during the weekend
Min. number of participants: 10
If we do not reach the minimum participant number for this fair, we might have to cancel our participation at FITUR. You will be notified after the registration deadline.
Statens Kartverk, Geovekst og kommuner - Geodata AS