Channels – what type of content do I need?
In general, retargeting campaigns are primarily offered on social media. This channel is particularly well suited for sales-triggering messages, which also inspire and engage.
For players who want a greater collaboration – where profiling messages also play an important role – we are happy to discuss opportunities to include YouTube and possibly also display banners. You will find recommendations and guidelines for the various channels below, which are intended to make sure that the content is as good as possible. The media agency's specialists can also assist with general advice. Feel free to watch our nine-minute videos to discover tips and tricks for marketing and content production.
Need help with creativity?
Creative Future in Essence Mediacom has the opportunity to help create materials, crop, or write texts. Do you want to take advantage of this offer? Send your request well in advance of start-up, and we will suggest a price quote. 
Send your email to: sandra.olsson@innovasjonnorge.no
Social media
Social media gives you a great opportunity to engage and inspire potential travellers to your destination, as well as drive valuable traffic to your own websites. Unlike other advertising channels, players are expected to use more spoken and unpretentious language, with emojis, puns and fun angles.
Feel free to ask a question to whoever sees your posts in order to engage them or get them to click on the website. On social media, it is recommended to have at least two to three different posts that go into rotation and that the algorithms can optimise against.
On Facebook and Instagram, there are many different types of posts. Although it is not wrong to use any of them, here are the ones with which it is easiest to succeed.
On social media, it is recommended to use the local language in the main text and headlines.
Ad formats and social media placements
See the list of formats below. To be visible in the Feed, Stories/Reel placements, we need material delivered in 1:1 or 4:5 and 9:16. Note that text is not included in Stories/Reels. Therefore, pay attention to having text in the image. *Follow safe zones.
Sizes:
1:1 = 1080x1080
4:5 = 1080x1350
9:16 = 1080x1920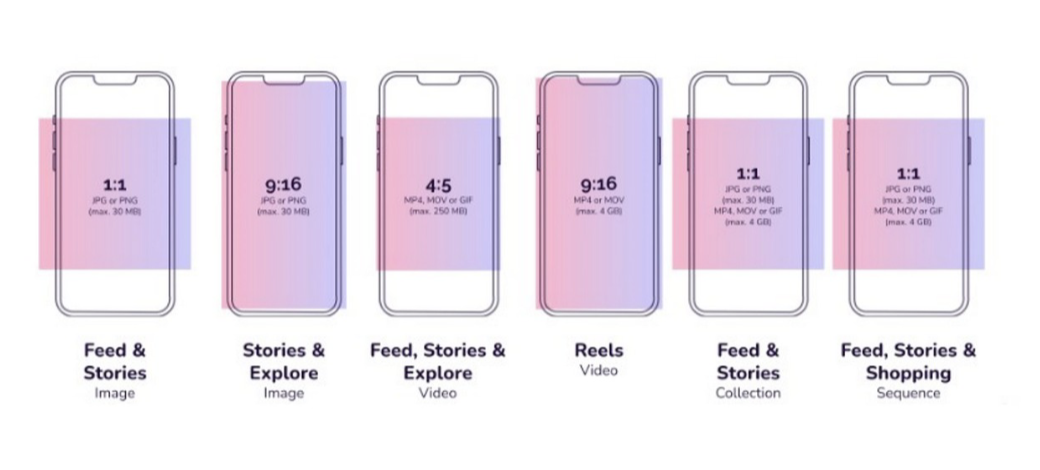 Safe zones
In Stories and Reels formats, it's important to be aware of safe zones so that Meta's placement of symbols and text does not come into conflict with material shown in the photo or video.
The dimensions are: 150 pixels at the top of the photo/video and 330 pixels at the bottom of the photo/video.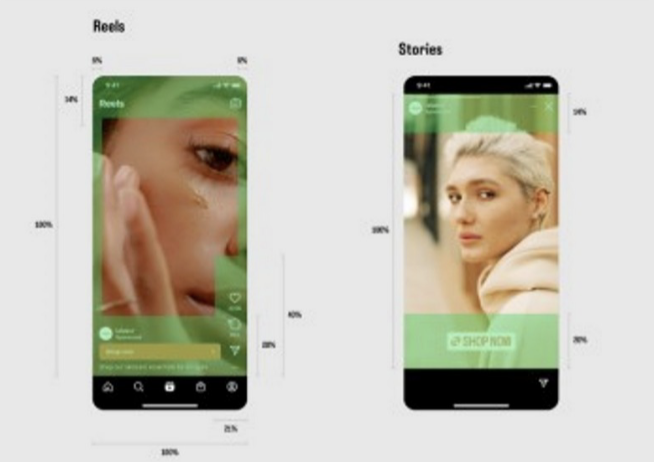 Video ads
Video ads are one of the best performing formats. It is recommended that video posts have a clear sender in the video from the start. Most people only watch a few seconds of the video, and the optimal length is a maximum of 15 seconds.
Tip for the text: create a clear connection between what you see in the video and what is written on the landing page, and make sure that the text creates curiosity about what you want to see.
For each video ad, you should ideally have two formats, one for Feed (1:1 or 4:5) and one for Stories/Reels (9:16).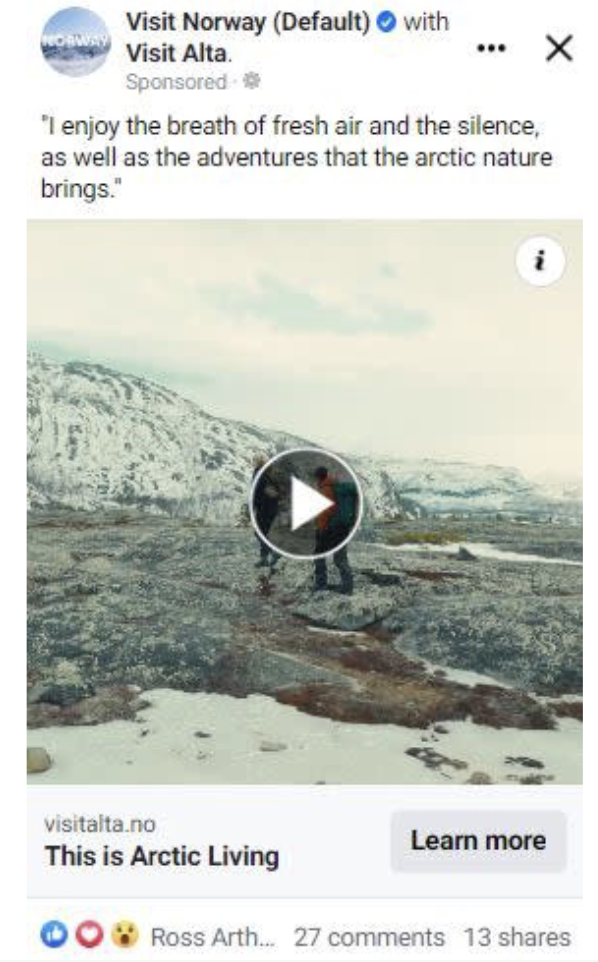 Format: 1:1 (square) for video in Feed, and 9:16 (height) for video in Story.
Text: Main text: 125 characters / Headline: 27 characters
Link: Yes
Audio: Yes, but video in Feed is often viewed without sound, so captions must be added.
Image ads
On social media, visuals are extremely important. Image ads, also called link ads, are one of the most common ad formats. If you are going to use still images, it is therefore important to choose an image that really catches the viewer's attention.
For each image ad, we recommend two formats: one for feed (1:1 or 4:5) and one for Stories/Reels (9:16).
Note that the main text of the ad is not included in Stories/Reels, so it is important to have a text or logo in the middle of the image so that the image is not missing its message.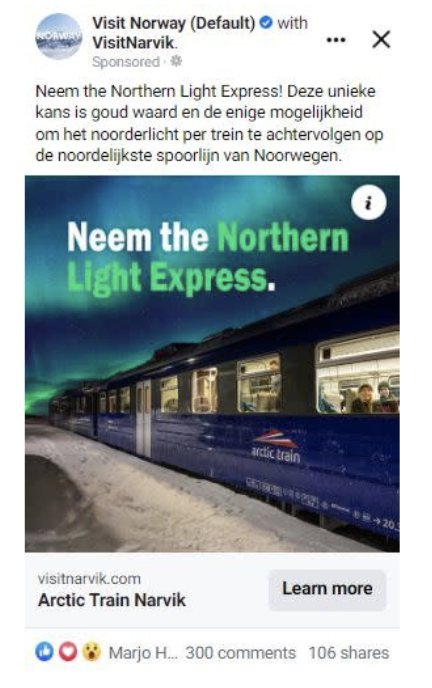 Format: 1:1 for picture in Feed
Text: Main text: 125 characters / Headline: 27 characters
Link: Yes
Carousel ads
Carousel posts are great when you want to display several different options, such as different activities that you want to promote. Carousel posts can have from three to ten photos.
We recommend using a maximum of five to six images, as very few scroll on after that. Each carousel card can have its own heading and link to match the image, while the text is common to all. We recommend using a different headline and a different landing page for each card.
The carousel, like the other ads, comes in both Feed (1:1 or 4:5) and Stories/Reels (9:16) formats. Keep in mind that text isn't included with Stories/Reels, as with your image ad.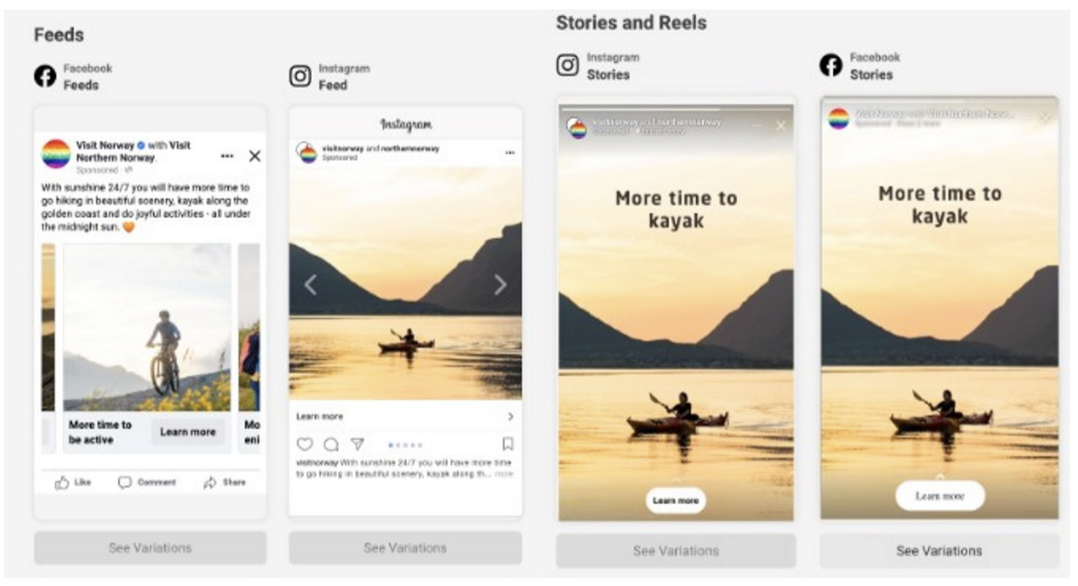 Format: 1:1 for images in Feed
Text: Main text: 125 characters / Headline: 27 characters
Link: Yes
YouTube
The advantage of YouTube is longer watching times and a mode where the viewer is more receptive to consuming content that inspires, while being open to exploring and discovering something new. It is therefore a channel that is very suitable for brand-building campaigns.
On YouTube, you can have up to several minutes-long videos, but it's important to have a clear hook that triggers curiosity from the first second, as viewers can choose to skip ahead after six seconds.
The difference from other digital ad channels is that you have a high level of attention, where everyone watches with sound, and you can say a lot. Note that the channel itself drives little direct traffic to other websites.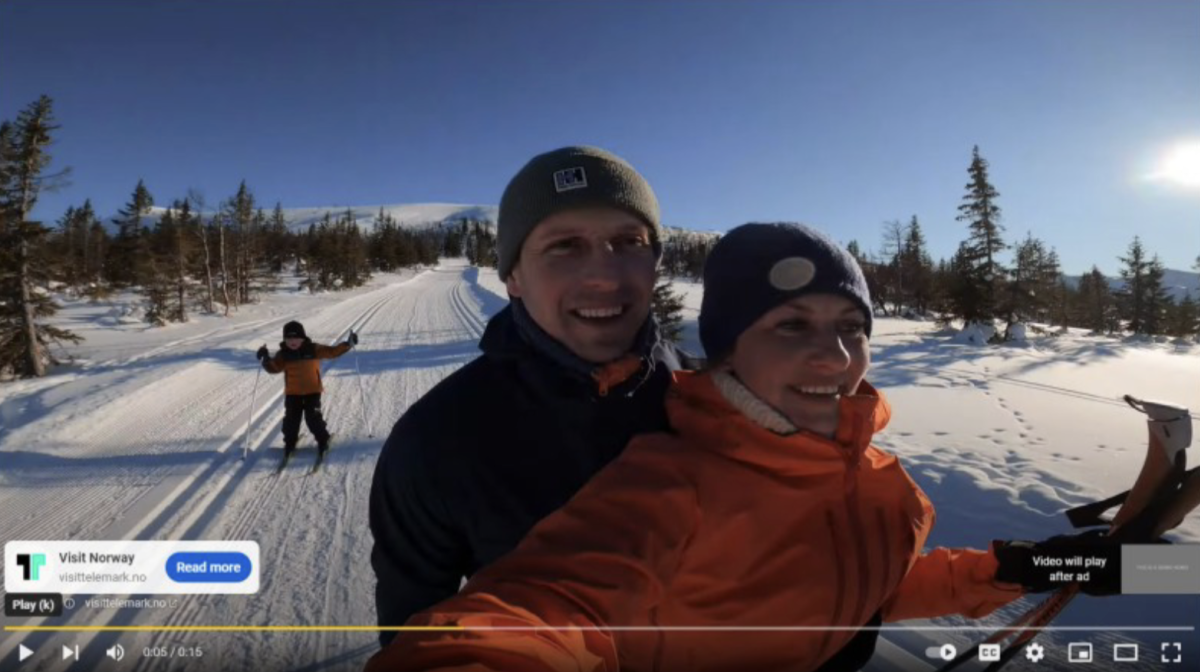 Format: 16x9 (width format)
Text: The video name should be max. 25 characters
Link: Yes, either to the website or your own YouTube channel.
Audio: Yes
Display banners
Display banners are a channel that is suitable to provide great reach in a cost-effective way. In other words, the channel helps you reach many potential travellers. Display banners are ads you scroll past on relevant websites and online newspapers, and where you often have a low degree of attention. The ads primarily serve as reminders of how nice it is to travel to Norway and to your destination.
The most important thing is therefore to have short messages with a clear sender. The goal is for them to create a spark of curiosity in the recipient. In addition to reaching out widely, the channel drives traffic to your website.
The design should therefore include a concise call-to-action along with a visual call-to-action button. Display banners can be purchased in many different formats and come as static images. This means that the same content and message must be adapted into the following formats:
300 x 250
300 x 600
336 x 280
970 x 250
Read more about retargeting
Beate Brænden Eidsand
Key Account Manager Visit Norway
+47 958 20 908
Sandra Olsson
Key Account Manager Visit Norway
M. + 46 (0)70 623 0925