Campaign structure and costs
Visit Norway paves the way
Visit Norway runs a number of branding campaigns during the year, both nationally and internationally.
Visit Norway paves the way for the travel industry to follow up our so-called Show & Tell campaigns with targeted sales activities through separate Sell campaigns.
Retargeting or targeted advertising
Every time Visit Norway runs digital campaigns and activities, we collect valuable data about everyone who shows interest in Norway as a travel destination. With the help of this insight, you can focus advertising campaigns on target groups that we already know are interested in exactly what you have to offer them.

You do not have to commit yourself to following up one campaign in particular, but can rather use the data we have collected across all activities over a longer period. Our media agency helps you so that your retargeting campaign reaches the right target group.

You can use your own material with the destination's own design, however you must include the sentence "in cooperation with Visit Norway". The material will lead the public to the right section of your own website, so that you can close the sale.
The 3 phases of the campaign
Phase I - Show
Visit Norway exposes Norway on a large scale
Phase II - Tell
Visit Norway shows what Norway has to offer
Phase III - Sell
Sales with partners' Retargeting campaigns that follow up Phase II
What does it cost to take part in retargeting?
Be visible for many!
The minimum investment in a retargeting campaign is NOK 50,000 kroner per market. However, in return you will be visible to many potential customers who are already poised to purchase. You have the possibility to increase the investment when you see that targeted sales campaigns are yielding good results for you. 
Be aware that these retargeting campaigns only use retargeting data from Visit Norway!
 
Including your own data or purchasing other target group data is not included in this campaign model. 
 
Retargeting campaign structure
All Visit Norway campaigns start with a Show phase where we put a specific topic on the agenda. This is then followed up with a Tell phase in which we tell more about what Norway has to offer. Four weeks after the start of the campaign, we have collected enough data to start the Sell phase, in which our partners can tempt the same target group with specific products and services. The Sell phase lasts at least four weeks, in order to ensure an optimal impact. 
You can take part in individual campaigns
It's natural if you only have products that match a single campaign activity or if a longer period between campaigns A and B is better suited to your offer. 
You can take part in a series of campaigns
You may often get an even greater effect, and reach more target groups, if you can benefit from the big amount of data that is collected from multiple Visit Norway campaigns. 
Multi-channel campaigns
In order to get the best possible effect from the investments, we recommend that you utilise each individual channel fully before we add further channels, if relevant. So, with low budgets you should use less channels than with higher budgets. However, a bigger investment gives you the opportunity to have more creative solutions in more channels, and to utilise the collected data in even more ways. 
In order to simplify the process, we have drawn up a list of recommended channels based on investment level.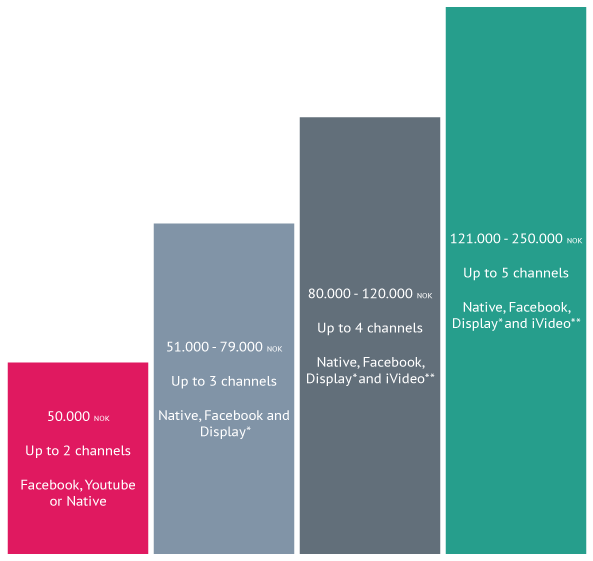 * Display can be a regular banner or Video in Banner
** iVideo can be online video or YouTube
NB!
Please note that these campaigns only use retargeting data from Visit Norway!
---
Advertising formats
Facebook poster and stories
Youtube-prerolls and -bumpers
Online video-ads (banners)
Video-banners
Editorial ads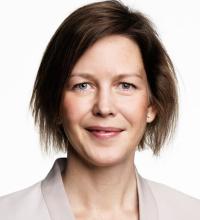 Sandra Olsson
Key Account Manager VisitNorway