What kind of equipment is included in a stand or a booth
Equipment per stand:
1 table
3 chairs
1 garbage bin
White tablecloth
Sign with stand number and company name
Equipment per booth:
2 tables
6 chairs
2 garbage bins
Lighting
2 white tablecloths
Sign with stand number and company name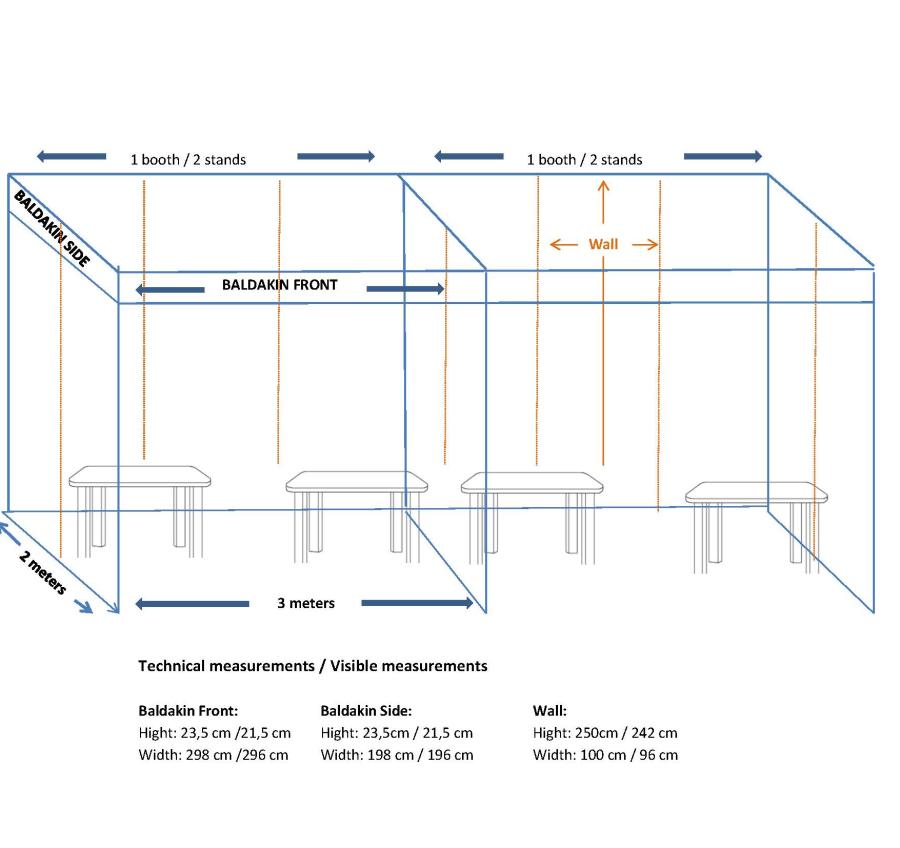 What is the size of a stand and a booth?
A stand is 3 kvm, and two companies/stands share a booth
One booth = 6 kvm. The back walls are 3 metres in length, and the side walls are 2 metres wide.
The back walls consist of three panels and the side walls of two.
The signs are attached to the canopy above the stand.

Measurement 1 panel = height 250cm, width 100 cm //Visible measurement: height 242 cm, width 96 cm
Measurement canopy front= height 23,5 cm, width 298 cm// Visible measurement: height 21,5 cm, width 296 cm.
Measurement canopy side = height 23,5 cm, width 198 cm// Visible measurement: height 21,5 cm, width 196 cm.
******
Can I decorate my stand?
Since most of the appointments are pre-booked, decorating the stand is not crucial for a successful participation (which can be different from a regular travel show). But we recommend furnishing the stand with attractive poster/pictures.
******
Can I order additional equipment for my stand?
Yes, you can. Information about this will be sent out medio February. Additional equipment can be ordered and paid directly to our vendor, Compass Fair AS.
******
Can I hand out tastings/food at the stand?
Yes, as long as you do not serve alcohol.
******
Can I decide whom to share a booth with?
If you have ordered a stand and intend to share the booth with another company, we recommend to mention who you will share with in the registration. We will try to comply with your wish but cannot garantee it.
******
Can I decide where I will be placed in the workshop hall?
Regarding placement of a stand in the workshop hall we will take into account geographical affiliation or hotel chain affiliation. No company will be prioritized with regards to stand placement.
******
When and how will I learn about workshop hall placement?
When we have received all registrations by end of January, we will start finalizing the stand map and stand placements. The stand map will be put online, and all suppliers will get their stand number. We recommend checking online where in the hall you are placed.