It's time to reconnect and teambuild, in person, safely. Not just for the health of your company, but for the health and wellbeing of you and your colleagues. For more than a year and a half, millions of people around the world have been working from home and have had less and less connection to others.
The pandemic has moved health to the forefront of our minds and made us realise that health is about more than just our physical bodies. The World Health Organization defines health as, "a state of complete physical, mental and social well-being and not merely the absence of disease and infirmity."
Working from home quickly became a daily reality for many, making us scramble to embrace creative ways of working together and supporting each other, all of which were digital.
Choose Norway as your destination
Now that we are finally beginning to see some light at the end of the tunnel, it's time to think out of the box for your next meeting, event or conference. Are you ready to give your team an experience they will never forget? Choose Norway as your destination. When your meetings are complete, go outside and experience nature like you never have before, and let your team find its way back to wellbeing. In Norway, you will find a lot of SPACE. Space to meet, unique locations for team-building exercises and the ultimate experience to be one with nature.
For Norwegians, nature is in our blood from the time we are born. Being outdoors makes us feel good and we are lucky enough to have mother earth's beauty right outside our door. Imagine hiking near the fjords, enjoying an open water swim after a hot sauna or experiencing a yoga retreat at a spa resort, and sharing the experience to bring your team closer together.
Friluftsliv = outdoor life
In Norwegian, this concept is called Friluftsliv, or 'outdoor life'. Friluftsliv is not just an idea, it's a philosophy, a way of life. The Secretary-General of Norsk Friluftsliv, an umbrella organization for 18 Norwegian outdoor organizations says, "Friluftsliv is not connected to a specific activity. For Norwegians, the word has a deeper meaning, like 'disconnecting from daily stress' and being part of the culture of 'us', which binds us together as human beings, as a part of nature." The Norwegian concept of friluftsliv, 'outdoor life' doesn't have to be extreme to bring you and your colleagues together. In Norway, wherever you are in the country, nature abounds.
The calm atmosphere in Norway will allow your employees/colleagues to lower their shoulders and relax. In a world where Covid can still create anxiety, here, you will no doubt appreciate Norway's abundance of space and its well-organized society.
Safe and healthy
But before you plan your trip, it's important to note that Norway is focused on keeping you safe and healthy during your stay. NHO Reiseliv, The Norwegian Hospitality Association, has drawn up industry standards and infection control measures to ensure the safety of employees and guests during the Covid-19 pandemic. By implementing increased infection prevention measures, restaurants, bars, hotels, adventure companies, and campsites are able to remain open. According to The Norwegian Institute of Public Health, 90 per cent of the population of adults 18 years and older in Norway are fully vaccinated. While 82.8 percent have had their first vaccination and infection and hospitalization rates remain low.
Now, where to start? Whether you are looking for a brand new and more fast-paced nature experience, or a tranquil and relaxing wellness-focused retreat, Norway has it available, during all four seasons.
Let's start a bit more on the extreme side. Host your meeting, event or conference at SALT, in the heart of Oslo with a view overlooking the Opera House. SALT is a nomadic art project with a variety of buildings onsite. At the end of the day, take your employees/colleagues into a sauna which seats up to 80 people. Then, if you are feeling brave, you can either plunge into a cold pool or walk a short distance and jump straight into the Oslo fjord. Cold water bathing has gained popularity in recent years and studies show it can boost your mood and lower stress levels.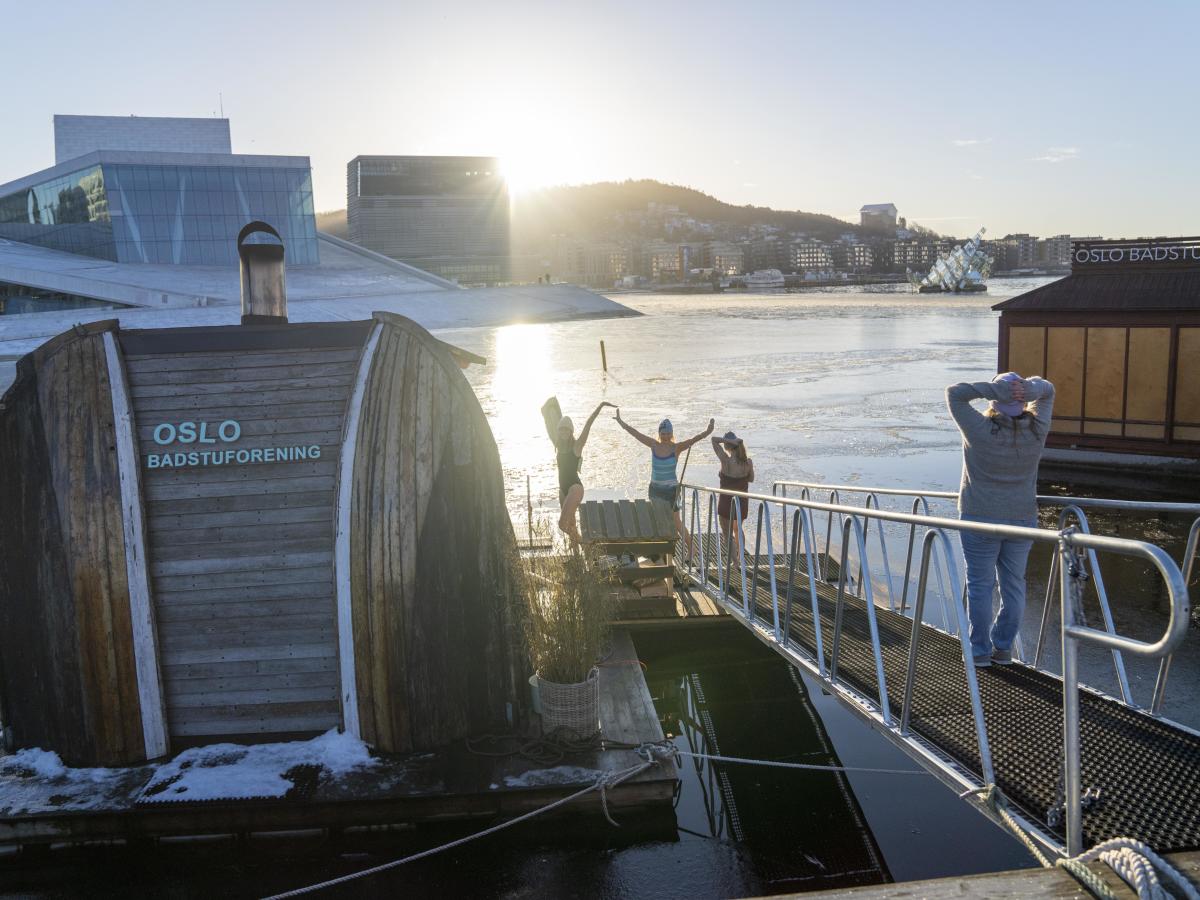 Dog sledding under the northern lights
If cold water immersion sounds too extreme, why not try something more relaxing? You can find a one stop shop at Solstrand Hotel & Bad about a 40 minute drive from Bergen. Solstrand has been hosting conferences for more than 50 years, and is regarded as a benchmark in the smooth running of international meetings and conferences. Treat your team to the spa facilities including the swimming pool, sauna and steam bath, to name a few. Located near the fjord, the views are amazing and you can also find and plan several different fjord excursions. 
Finding peace in nature in Norway can take you to another world when you experience the northern lights. Host your next meeting, event or conference in Bodø or Tromsø, to increase your chances of seeing Mother Nature's light show. The local convention bureaus are happy to give you advice on what to plan. You can also contact one of the many brilliant Destination Management Companies in Norway, which offer creative ideas for your trips, including everything from glamping to dog sledding and chasing the northern lights. You and your team will bond and walk away feeling relaxed, rejuvenated and ready to return to work.
If you are looking for a little bit of friendly competition, create your very own Olympic Games in Lillehammer, sight of the 1994 Games. This rare opportunity lets you experience actual arenas that were built for the Olympics. Some of the events your team can experience include biathlon, cross-country skiing, hockey and more. You'll find a wide variety of accommodation and Oslo airport is only an hour and 40 minutes away.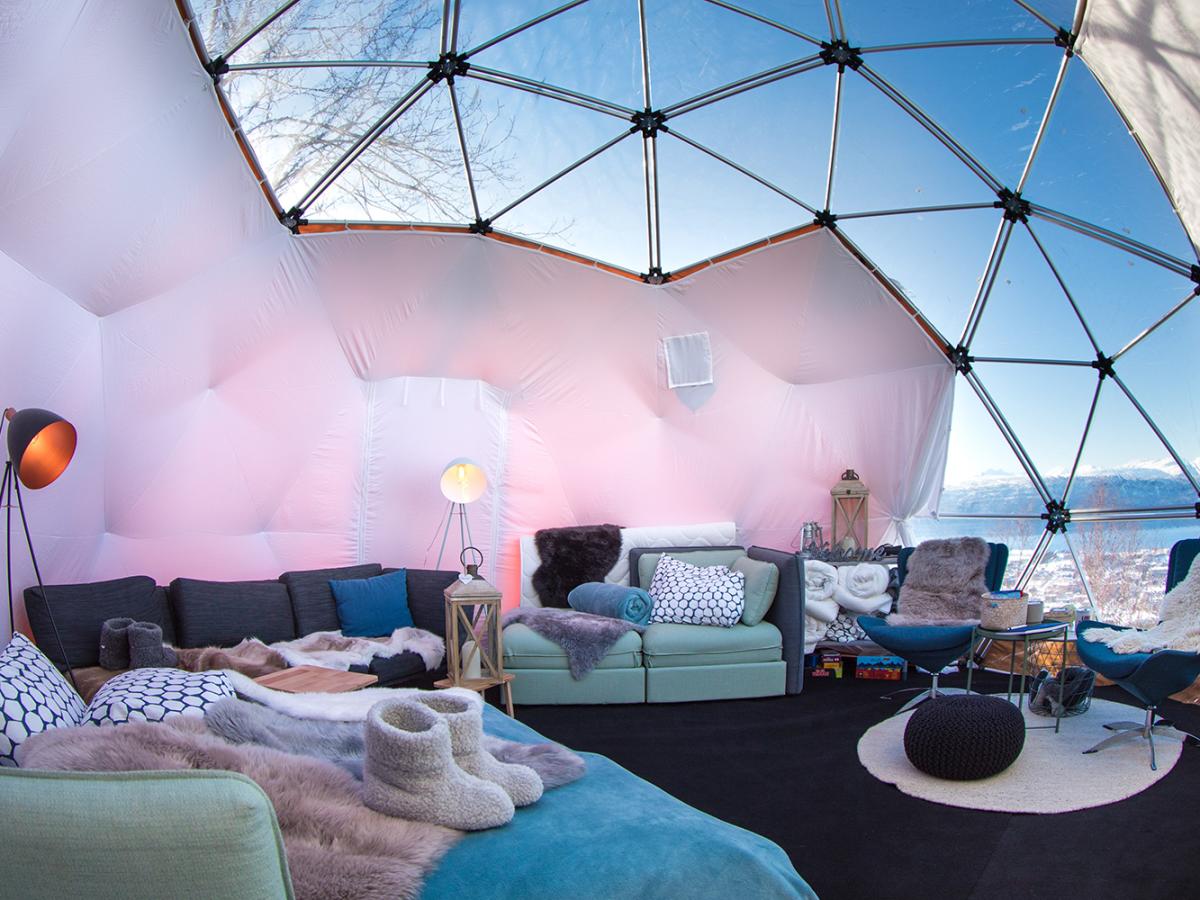 Reunite in person
Norwegian cities are compact, making it easy to explore on foot. If you find time before or after a conference or between meetings, you'll be amazed at what you can experience in several cities in just 10.000 steps. If walking isn't your preference, don't fret, you'll find easy access to trains, busses, boats, trams and taxis, in most major cities. The capital city of Oslo is less than a 20 minute train ride from the main airport. You'll find signage at airports and train stations in both Norwegian and English.
Give your team the opportunity to reunite in person and improve their wellbeing in the nature of Norway. According to the Secretary General of Norsk Friluftsliv, "The physical benefits of friluftsliv are invaluable because it most often includes some form of physical activity. But equally important are the mental benefits." The Northstar Meeting Group reports that the impact of the pandemic will continue to drive health and wellness practices at in-person gatherings well into the future.
We invite you to plan your next meeting, event or conference in Norway and to experience Friluftsliv, 'outdoor life'. Enjoy the commitment to experience the outdoors, no matter your age, physical condition or the weather and improve your team's health and wellness.