After nearly two years of digital meetings, conferences and events, people are looking for new and unique opportunities and places to host their next event. What about you? What is the goal of your next event or conference? What will inspire your team to think outside the box and reach new heights?
Why not try Norway? It is a country with a varied and beautiful landscape and historic buildings offering your team a unique, once-in-a-lifetime experience. In Europe's longest country, you'll encounter mountains, valleys, oceans, lakes, big cities, beautiful nature, and rich history. Choose among four equally beautiful Scandinavian seasons in which to host your conference or event.
Venues – powered by nature
In Norway, you are never far away from nature and the experiences it offers. Whether it's the power of a massive waterfall descending the side of a mountain or the sounds of wildlife in the forest, nature does something that makes our minds more creative. Being close to nature can provide a fresh perspective. Bring your team along and host your event at Solstrand Hotel & Bad-Solstrand, just 30 minutes outside Bergen. Its numerous meeting rooms and halls, rooms in all sizes offer sea views with an ample amount of daylight, sure to provide inspiration. Your team will also have the opportunity to take in the beautiful sunrises and sunsets or enjoy some time in the spa or pool.
For an even closer sea experience, what about hosting your meeting or event on an island? Flo & Fjære is an incredibly unique location where your team can meet on a gorgeous garden island, boasting thousands of exotic and beautiful plants and flowers. Located just 20 minutes from Stavanger, it is easy to get to and will provide you with stunning Norwegian nature where you can both work hard and have fun with your colleagues. In such an inspiring location, one simply becomes 'powered by nature'.
Definitely different venues
While the power of nature can inspire your next meeting, Norway also offers some 'out of the box' venues to drive creativity. If you are looking to add a little something extra, consider the Norwegian National Museum of Aviation in Bodø. There, you will have the opportunity to combine your meeting or event with fun team building experiences. If you have your conference in the auditorium or to hold a presentation in the middle of the civil gallery, you will be guaranteed unique surroundings.
Art that is created by world renowned artists can evoke emotions, thoughts, feelings, and inspiration. Surround your team with the works of Edvard Munch and other artists while hosting your next event at the newly opened MUNCH. The building itself will take your breath away with its protruding angles pinned against the backdrop of the Oslo fjord. When your meeting is finished, tour the museum's 13 floors and experience how art can move and inspire people in different ways. What ideas or concepts can your team develop after experiencing renowned art in this brand new, exciting architectural gem?
Venues with a history
Albert Einstein famously said "If you want to know the future, look at the past." To inspire your team to build a new future, find unique solutions or develop new goals, how about hosting your event in an incredibly historic venue? Norway boasts many.
Take your team back in time with a stay at the Scandic Holmenkollen Park, a historic hotel in dragon style. The iconic design evolved out of the mid-19th-century national romantic movement as a deliberate attempt to create a distinctive Norwegian style of architecture. The hotel is located a short metro ride from the city centre and provides spectacular views of Oslo. The oldest part of the hotel dates back to 1894. It is also just a few minutes walk from the Holmenkollen Ski Jump arena, where you can find lots of opportunities for outdoor activities for your team.
National cultural monument
Transport your colleagues back to Mediaeval Times when you host an exclusive banquet or party inside the 750-year old Haakon's Hall, in Bergen. Håkon Håkonsson built the castle as a royal residence and banquet hall, meant for royalty. When built, it was the
largest and most imposing building of the royal residency, at a point in history when Bergen was the political centre of Norway. Today it is a national cultural monument that is still used for both royal dinners and other private occasions. Give your team an experience they won't soon forget inside the massive and atmospheric stone wall hall.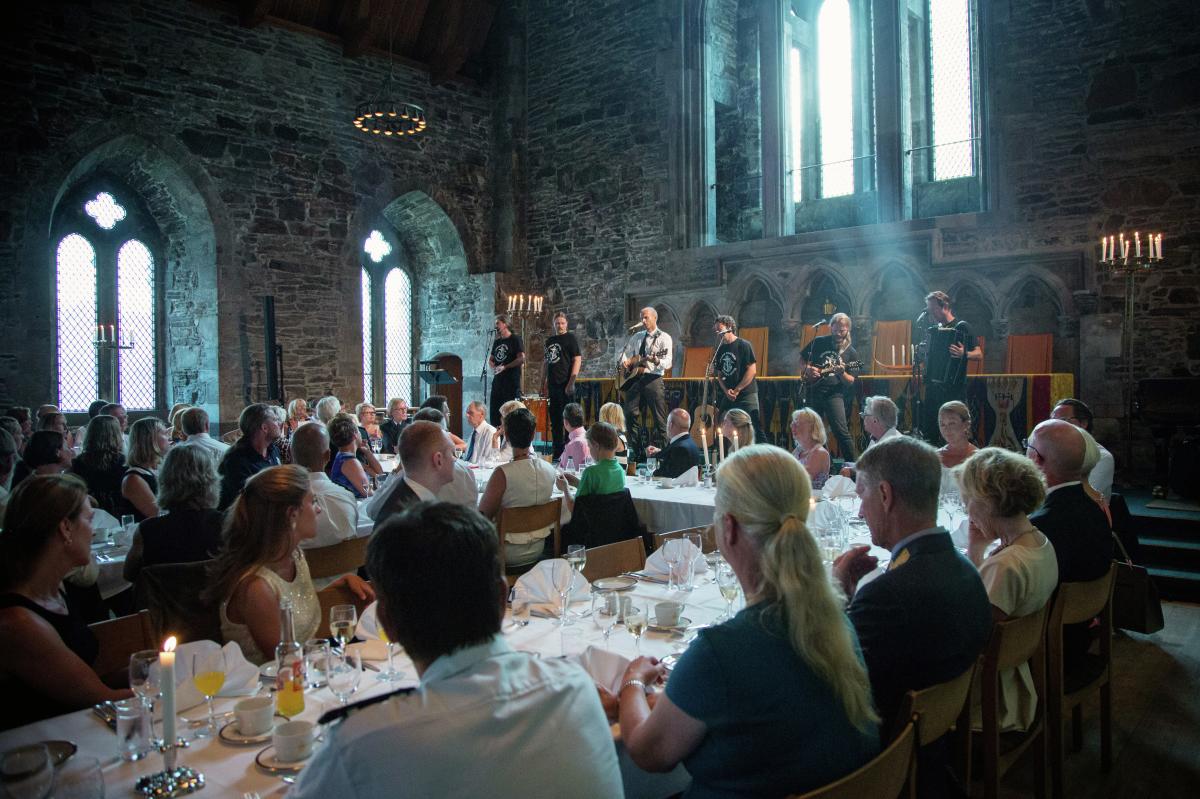 Get back to the 16th century
For a more intimate experience, check out Boen Gård/Farm Boen. Located just a few kilometres from the coast in Southern Norway, this quaint farm has opened its doors so guests can be transported back in time to the 16th century, when King Christian the second owned the estate. The Tovdal River, which has a rich history in salmon fishing, runs through the property, creating a scenic farm feeling. The buildings, park, and outdoor areas have been restored to offer guests an inviting experience. Farm Boen is part of the Historical Hotels & Restaurants which has historic venues located throughout Norway.
Whether you are looking for bustling city surroundings, mediaeval castles or the quaint countryside, Norway offers it all. Unique locations in a unique land will inspire, motivate, and unite your team.