Explore Trondheim in 3,000 steps
Trondheim, founded in 997, was the capital of Norway during the Viking Age. Rich in history, the city offers conference and event attendees many delightful experiences. You will be amazed by everything you can see in just 3,000 steps!
Carve out some time during your event to visit the Nidaros Cathedral and Archbishop's Palace. They are located side by side in the middle of the city centre. Construction on the famous cathedral started in 1070, and it remains the most important Gothic monument in Norway. It is the northernmost mediaeval cathedral in the world, and a popular destination for pilgrims.
Check out this video about amazing things to experience in Trondheim:
Cathedral tours
You can tour the historic cathedral and see its impressive stonemasonry and beautiful stained glass windows up close. Themed tours are also available for small groups, providing a unique opportunity to visit the upper and lower floors of the cathedral, which are usually closed to the public. Explore the hidden rooms and secret chambers deep inside the ancient cathedral. During the summer months, you can climb up to the tower. The 172 steps to the top are dark and narrow, but the climb is well worth it as you will be rewarded with an unrivalled view of the city centre.
Dine on delicious crab
If your team is interested in fine dining, you're in luck! Trondheim was named European Region of Gastronomy 2022. You can treat your team to a memorable meal at one of three Michelin-starred restaurants in the city. Or find a cosy corner cafè, where you can enjoy a local favourite: crab from the nearby island of Hitra. Try a sourdough crab sandwich, which will tantalise your tastebuds. The city streets are filled with a variety of restaurant options, so you are sure to find something that will satisfy every appetite.
Brilliant boutiques and creamy coffee. When you stroll along the charming city streets, you will find lots of unique shops and boutiques. During a break from your conference, pop into one of the many coffee houses and pick up a pick-me-up. Take your coffee to go and browse the many vintage and designer stores. The city has a vibrant feel, thanks in part to its large student population, and it shows through the variety of shops you find there, including everything from clothing, shoes and interior design to corner flower and nick nack shops.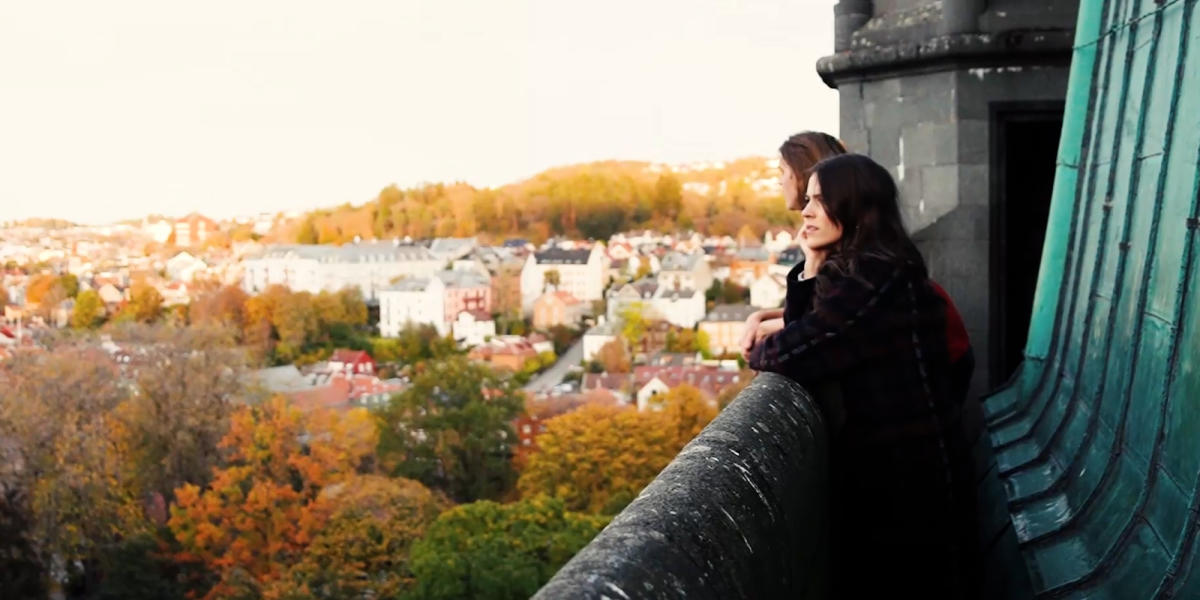 Gateway to happiness
Start your day bright and early with a beautiful sunrise stroll. Head to the Old Town Bridge, Gamle Bybro, and venture over the river. The bridge was constructed in 1681 and has earned the nickname, the Gateway to Happiness, Lykkens portal, in Norwegian. The nickname comes from a song written by a Norwegian singer and composer. He is said to have written it about the Nidelva River. When you get to the other side, your senses will be delighted with the rows and rows of traditional and colourful wooden homes in the Bakklandet neighbourhood.
Looking for luxury
Treat your team to a little bit of luxury when your conference is complete. The historic Britannia Hotel has it all. Founded in 1870, the hotel has a long history of serving explorers, royalty, dignitaries and celebrities from around the world. You can sip an upscale drink at the bar, served up by one of the hotel's mixologists. You can enjoy casual dining or experience its Michelin-starred restaurant, Speilsalen. The restaurant has recently been restored to bring out its former glory and boasts original crystal chandeliers, silk wallpaper and gold moulding. Treat your team to a relaxing day at the Britannia Spa. Rejuvenate in the heated lap pool, mineral pool, sauna or infrared cabin. You can also book a variety of treatments.
Rock out at Rockheim
When you are booking your conference or event, be sure to check out upcoming concerts at Rockheim, Norway's national museum of popular music. Just a short walk from the city centre, Rockheim is a must see for music lovers. Start on the museum's
sixth floor and work your way down through interactive exhibitions, music history and more. You can also grab a bite to eat at Rockheim Restaurant on the fifth floor, where you will see a stunning view of the city and fjord. Don't forget to stop in the museum shop, offering a wide range of products related to music and popular culture.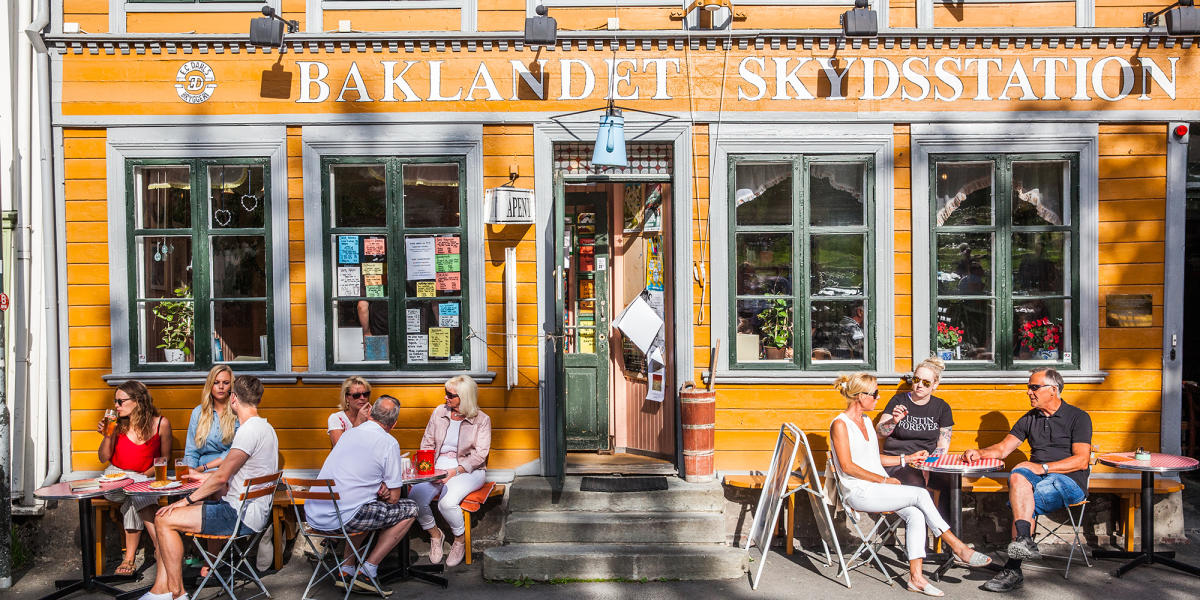 Trondheim is a great place to host your next conference or event. You will be able to take in the history, beautiful buildings, and so much more in just 3,000 steps.
Trondheim - a top international conference destination Fostering education, research and development, Trondheim is recognised as a knowledge powerhouse where collaborations of great minds have led to breakthroughs of international acclaim. With more than 40,000 students, the elite Norwegian University of Science and Technology (NTNU) is a driving force behind much of this innovation. This has led to Trondheim becoming an appealing destination for hosting collaborative business events that facilitate knowledge-sharing, trade partnerships, education, investment, and long-lasting legacies.
Top highlights: Trondheim is known as the original Viking capital of Norway. Today, it's a place where creativity and innovation are fused together to deliver great events, exciting places to explore and cutting-edge advancements that are globally acclaimed. An undisputed leader in innovation, the city has become synonymous with a slew of success stories, particularly in the fields of technology, science and medicine.
Largest meeting venue capacity: Trondheim Spektrum (12,000 people)
Free non-binding advice and assistance:
Visit Trondheim works with its many industry partners to ensure that every event hosted in Trondheim delivers excellence. Its track record shows that it continues to excel. It works closely with planners to create the perfect event for delegates, including facilitating access to industry experts, providing inspiration for unique experiences and referrals to key business event products, services and sustainable suppliers. It is committed to ensuring every business event held in Trondheim is outstanding in delivery and has a positive impact on delegates, organisers and our city.
Travel in Trondheim: As the third-largest city in Norway, Trondheim is easily accessible for international delegates and easy to navigate once they have arrived. Perfect to explore on foot, bike or via its highly accessible transport network, Trondheim invites delegates to discover its creative culture, expressed in its food, history, events, arts and music scene. For those wanting to explore further afield, the unique natural beauty of the Trøndelag region is just a short trip away.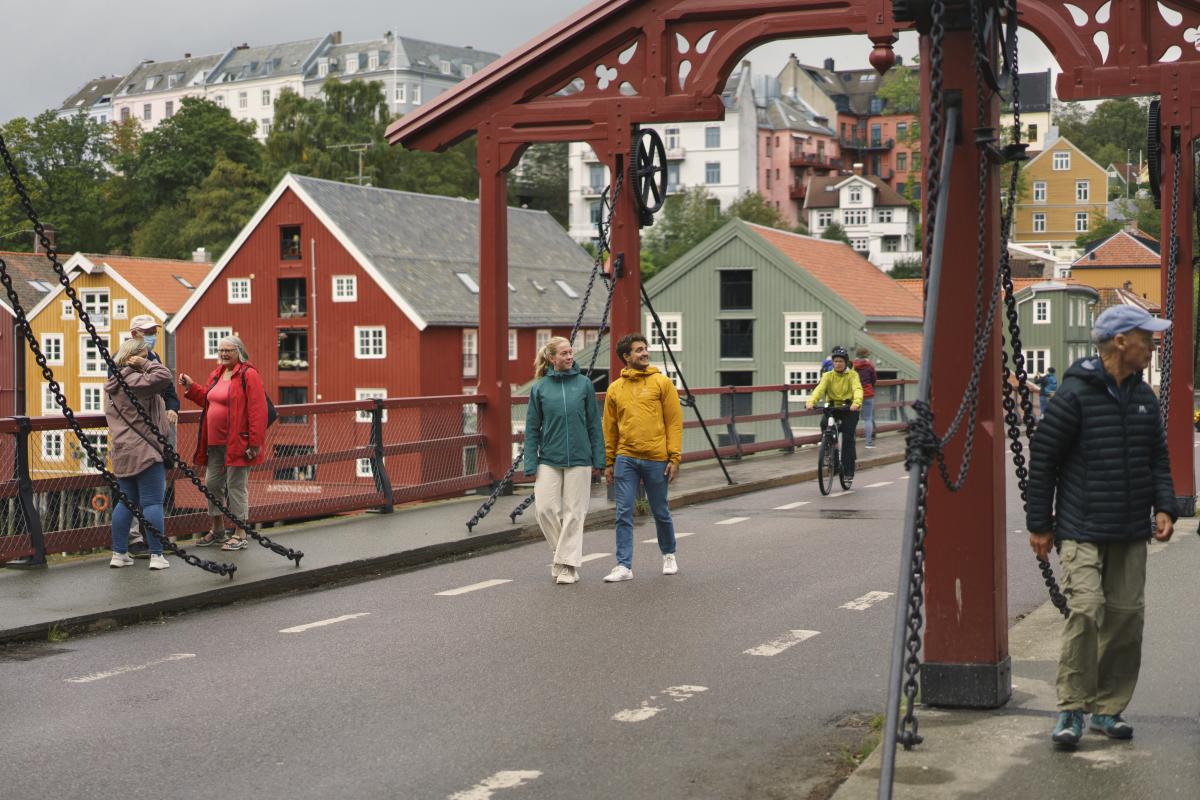 Key facts about conferences in Norway
Easy access
Norway is a big country, with considerable distances between the major cities. Luckily, there are good bus and train connections  between all the major cities and towns. In addition, there are many airports scattered all over the country. Oslo is the main air travel hub, with daily connections to most places  in the country, and many direct flights to international destinations. For more detailed information, check out our transport page.  
Competitive pricing
Contrary to popular belief, hotels and other accommodation venues are not exceptionally expensive in Norway. On the contrary, prices are similar to the rest of Europe. Read more about Norway's excellent value for money.
Sustainability
Norwegians love to spend time in nature and protect  the environment as much as possible. Green travel, transportation, accommodation and gastronomy can be found all over the country and are a priority for many businesses in Norway. Read more about sustainability in Norway.