Explore Oslo in 3,000 steps
When you meet in Oslo, Norway's capital city, you might be surprised at how much is at your fingertips. Or, in this case, at your footsteps. The next time you attend a conference or event in Oslo, experience the compact city on a lunch break or when your day is done. You will be amazed at what you can see in just 3,000 steps.
Winter in Norway
.
Photo
:
Ismaele Tortella / Finn-Erik Rognan, Maverix / VisitNorway.com
Winter in Norway
.
Photo
:
Ismaele Tortella / Finn-Erik Rognan, Maverix / VisitNorway.com
Many of Oslo's conference centres and meeting venues are in the heart of the city, where you are just steps away from the stunning Oslo fjord. Remember to pack a jacket as sometimes the wind off the fjord can be a bit chilly. But don't forget to look up towards Ekebergparken and take in the beautiful fall colours. When the sun sets early in the winter, the city lights will dazzle you. If you are feeling brave, try out ice bathing and then warm up in a cosy sauna.
Friends sitting in sauna
.
Photo
:
Finn-Erik Rognan / Maverix
Friends sitting in sauna
.
Photo
:
Finn-Erik Rognan / Maverix
Check out this video about amazing things to experience in Oslo:
The majestic Oslo Opera House is situated literally on the fjord. It was designed to look like an iceberg rising out of the fjord. While you might not have time to take in a show, many visitors and locals appreciate the view from the top of the building. Visitors can walk on the opera roof and relax with unforgettable views of the city and fjord.
Six floors of literature
Just across the street from the Opera House is the newly opened, ultramodern Deichman Bjørvika, or Oslo Public Library. On a sunny day, you can order a coffee and enjoy the view from its second story outdoor café. With six floors of literature, and numerous cosy reading and study places, there is plenty of space to relax during your lunch break.
If you want a real scream, head to the brand new MUNCH museum, which is right next door to the Opera House. The stunning building reflects the light from the fjord and offers spectacular views from its top floors. You can grab a quick lunch in the café or experience some of Edward Munch's amazing art. In total, the museum houses nearly 28,000 unique pieces including three of Munch's Scream paintings.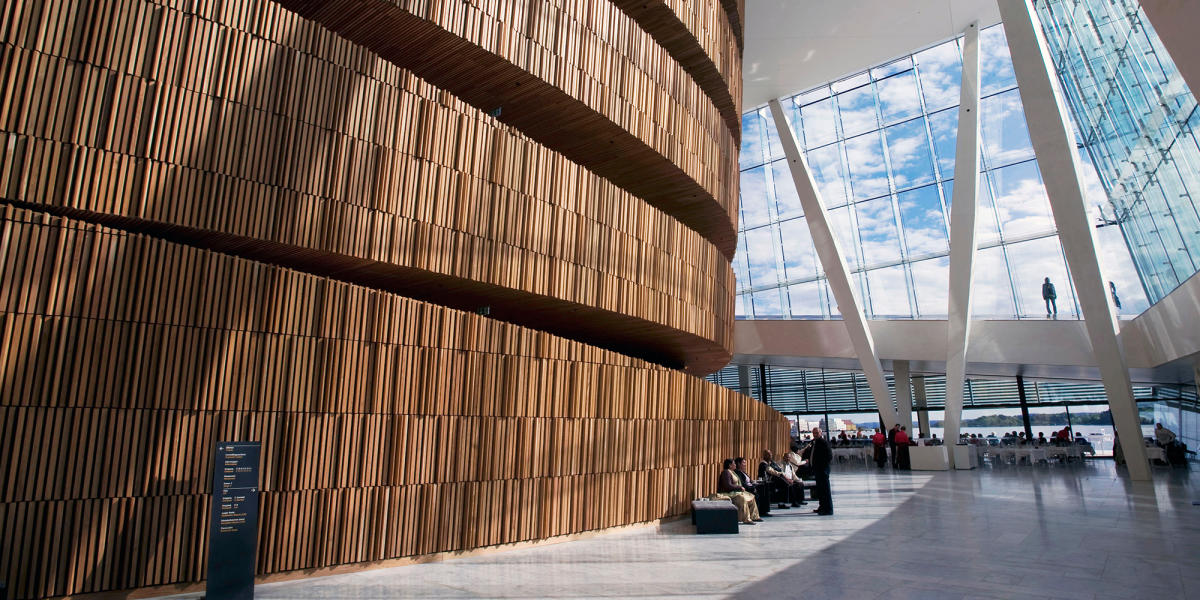 Creative urban life
If you want to get some fresh air during your break, you can take a stroll along the Akerselva, a river which runs into the Oslo fjord. The river runs past many of Oslo's best features, including soothing nature, creative urban life, history and street art, and a variety of fun, funky and fresh restaurants and pubs.
Looking for a great dinner spot after your conference is finished? You are in luck! The downtown area is packed with new restaurants and bars. You are within walking distance of Indian, Lebanese, Norwegian, American, Italian, and Japanese restaurants, among others. If you want a taste of it all, check out hip food courts like Oslo Street Food and Vippa. Both feature international eateries, bars, live music, and both indoor and outdoor seating.
Sauna by the fjord
Soaking in a sauna is the perfect way to unwind after a long day. Salt, just a short walk from the Opera House, is a popular gathering spot. You can book one of six saunas, all featuring spectacular views of the Opera House and the fjord. Salt also offers a cold pool and showers. After you warm up in the sauna, stay for a drink and some delicious food from one of the many food trucks parked there.
Check out these unique venues in Oslo
Oslo is compact and has a very vibrant atmosphere. When you attend a conference or event here, you will be able to fill your free time within just 3,000 steps. Take away fond memories of the fjord, food and fun spots all within walking distance.
Oslo - an international conference destination
Oslo hosts over 300 international conferences annually, making it one of the most experienced host cities in the Nordics. Oslo's MICE (meetings, incentives, conferences and exhibitions) industry strives to make your conference a success. State-of-the-art
infrastructure and facilities, combined with a high service and skill level in the event industry, guarantee that everything will run smoothly. A low carbon footprint and a safe environment for your conference come standard. And as one of Europe's fastest-growing cities, Oslo's vibrant and optimistic atmosphere becomes a truly unique and memorable backdrop for any event.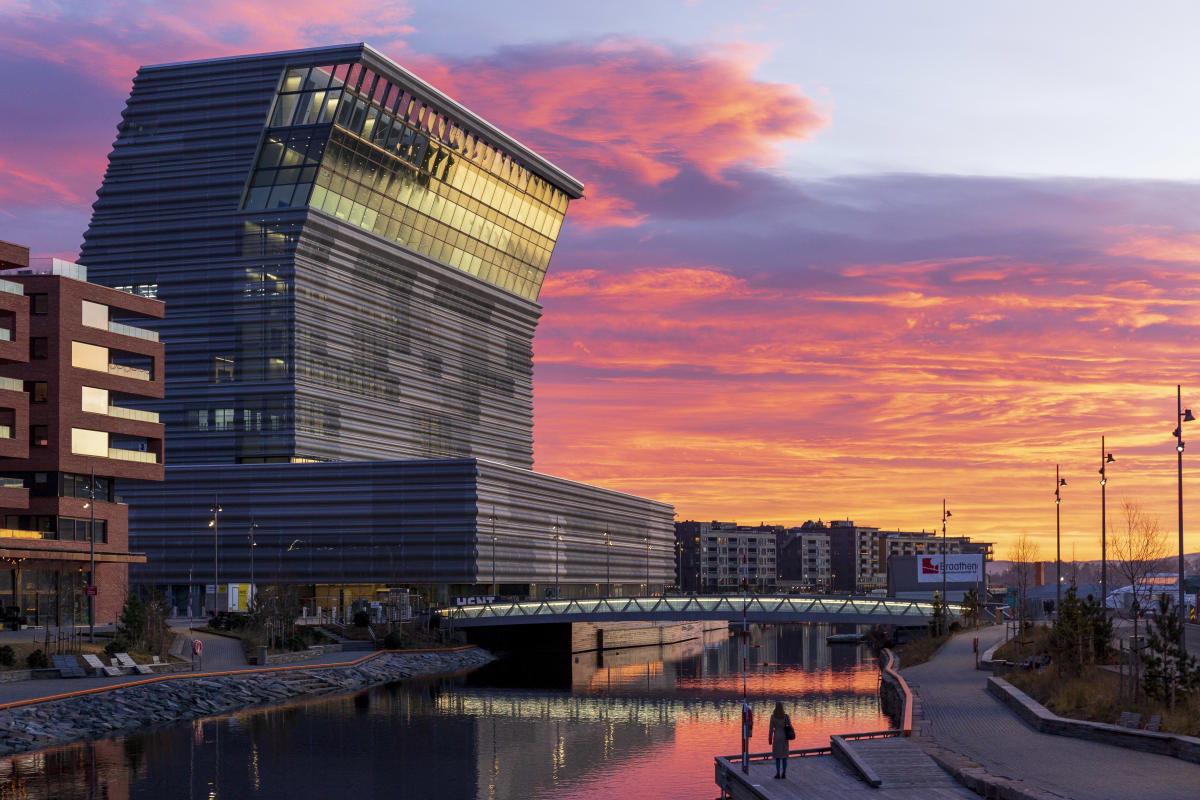 Top highlight: Oslo Opera House, MUNCH, Fjord and tons of food options.
Largest meeting venue capacity: Oslo Spektrum (11,500 people). Telenor Arena (23,000 people).
Free advice and assistance: Oslo Convention Bureau works to strengthen Oslo as an international destination for conferences, meetings and events. It collaborates closely with a large network of first-class local partners, including hotels, conference centres, restaurants, activity providers, and meeting planners. It offers free, non-binding advice and assistance to organisers in the planning and application phases, from the first step in the process until the event takes place.
Key facts about conferences in Norway
Easy access
Norway is a big country, with considerable distances between the major cities. Luckily, there are good bus and train connections  between all the major cities and towns. In addition, there are many airports scattered all over the country. Oslo is the main air travel hub, with daily connections to most places  in the country, and many direct flights to international destinations. For more detailed information, check out our transport page.  
Competitive pricing
Contrary to popular belief, hotels and other accommodation venues are not exceptionally expensive in Norway. On the contrary, prices are similar to the rest of Europe. Read more about Norway's excellent value for money.
Sustainability
Norwegians love to spend time in nature and protect  the environment as much as possible. Green travel, transportation, accommodation and gastronomy can be found all over the country and are a priority for many businesses in Norway. Read more about sustainability in Norway.