Explore Bergen in 3,000 steps
When you meet in Bergen, make sure to spend an hour experiencing the historic and beautiful coastal city. You'll be amazed at where just 3,000 steps can take you.
Bergen in autumn
.
Photo
:
Bergen in autumn
.
Photo
:
When you are at a conference, a great way to utilise your breaks is to go outside, stretch your legs and get some fresh air. In Bergen, you are within walking distance of so many exciting experiences.
Bergen in autumn
.
Photo
:
Bergen in autumn
.
Photo
:
Check out this video about amazing things to experience in Bergen:
You can't miss Bryggen, the city's most famous attraction, which dates back to mediaeval times. The Hanseatic wharf is on UNESCO's list of World Heritage sites. The iconic wooden buildings in an array of colours line the seaside. The area is a reminder of the time when Bergen was a major centre for trade between Norway and the rest of Europe. Bergen was also once the capital of Norway, something which many proud Bergen locals still (half seriously) think it should be.
After your day is done, and you are ready for dinner, perhaps a stroll along the wharf would suit you. There you'll find small shops, pubs and restaurants, and some of the best seafood Scandinavia has to offer. If you enjoy seafood, you must try persetorsk, a traditional cured and steamed cod dish from Bergen. The fish is prepared with the skin on, and is sweetened, salted and pressed over time in a cool place. The combination of sugar and salt makes the fish firmer and gives it a fine, flaky texture and a round taste, which is completely unique to this local dish. Persetorsk is unique to Bergen and is probably the only place on earth where you can find it on the menu.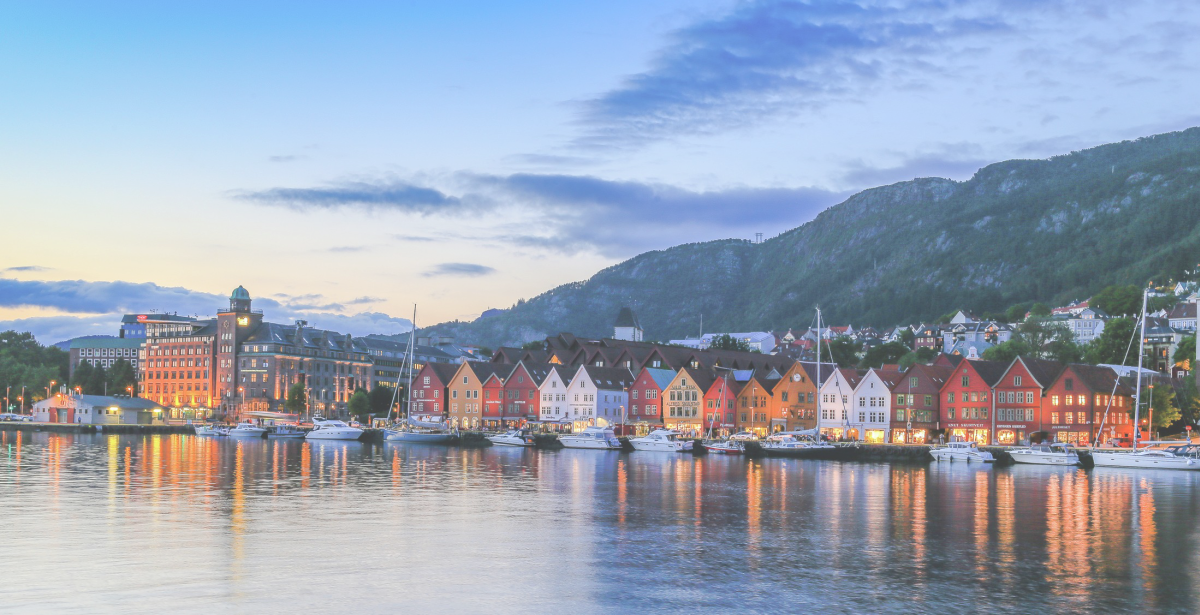 Tram ride to the top 
Tucked away in the heart of the city centre, you will find a Fløibanen. The tram is one of Norway's most famous attractions. It takes you up the mountain in just minutes. At the top you will find a large hiking area and a restaurant with spectacular views of the city. The tram has been in service since 1918 and is popular among residents and tourists. 
A 2-minute ferry trip
If you're short on time, but can spare 30 minutes, hop aboard Beffen and experience Bergen on the city's most charming boat trip. It might just be the world's smallest cruise vessel. It's the perfect break between meetings, and will inspire and energise you. Just a short trip across the harbour on Beffen gives you beautiful views of Bryggen and the city. 
On your way to your conference or meeting, grab a coffee from a local bakery and take a stroll down the many narrow cobblestone streets and check out all the colourful and amazing street art, mostly painted by anonymous artists. Find your favourite! If you are an art lover and have some time between meetings, you can head to KODE museum, where you will find nearly 50,000 pieces exhibited throughout the four buildings and three famous composers' homes. The museum houses Norway's second-largest collection of art. 
Aquarium and open-air swimming pool
A great way to wrap up your event is by relaxing with a swim at the open-air, heated, saltwater swimming pool at Nordnes Sjøbad. The pool is a short walk from the city centre and next to the Aquarium in Nordnes Park. If you're feeling a bit more adventurous, you can jump right into the sea and warm up in a hot sauna afterwards. 
Bergen, the fjord capital, is Norway's second-largest city, yet has a small town vibe, and is packed with charm and urban character. Almost all the biggest attractions are within walking distance. See what you can experience during your next meeting in Bergen, in just 3,000 steps.

Bergen - an international conference destination
Bergen has a reputation for being a city that is perfect for hosting events with participants from all over the world. In Bergen, you will find suitable facilities for events of all types  and sizes, including international conferences/congresses, sporting events and large exhibitions. The professional organisers in the meeting industry have many years of experience, ensuring that your event will be a success.

Bergen is easy to reach for your participants, with direct flights to most major destinations in Europe. Read more about why Bergen is the perfect place for your event.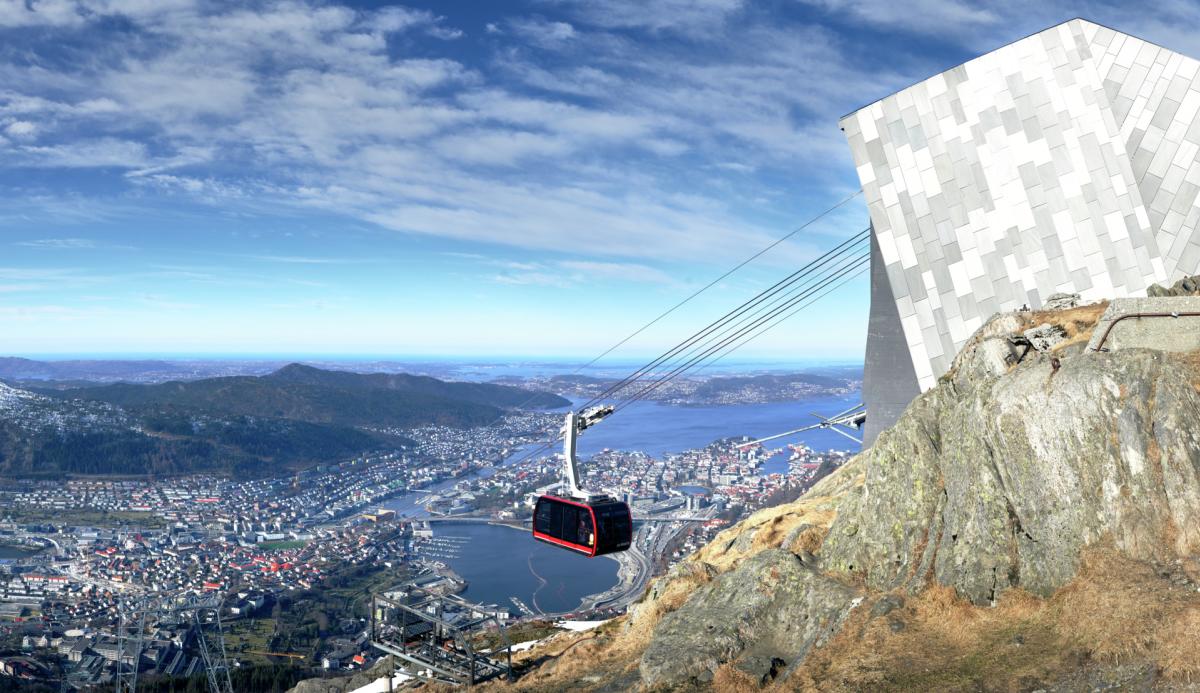 Top highlights: Fjords, mountains and the sea are all within easy reach from the centre of Bergen.
Largest meeting venue capacity: 3,500 people (The Grieg Hall).

Free advice and assistance: Bergen Convention Bureau offers free, non-binding  advice and assistance to anyone considering organising meetings, conferences or congresses in Bergen. It also helps you secure comprehensive information on hotels and meeting venues, including price quotes..
Travel in Bergen: It's easy to reach the city centre from the airport. Bergen has good public transport services with both the Airport Bus Flybussen and the Bergen Light Rail (called Bybanen in Norwegian), as well as taxis going between the airport and the city centre. The journey usually takes about 20 to 30 minutes. 
Key facts about conferences in Norway
Easy access
Norway is a big country, with considerable distances between the major cities. Luckily, there are good bus and train connections  between all the major cities and towns. In addition, there are many airports scattered all over the country. Oslo is the main air travel hub, with daily connections to most places  in the country, and many direct flights to international destinations. For more detailed information, check out our transport page.  
Competitive pricing
Contrary to popular belief, hotels and other accommodation venues are not exceptionally expensive in Norway. On the contrary, prices are similar to the rest of Europe. Read more about Norway's excellent value for money.
Sustainability
Norwegians love to spend time in nature and protect  the environment as much as possible. Green travel, transportation, accommodation and gastronomy can be found all over the country and are a priority for many businesses in Norway. Read more about sustainability in Norway.