Meetings in stylish surroundings
In addition to 8 hotels and conference capacity for 1,000 delegates, Ålesund boasts one of Europe's most distinctive collection of Art Nouveau buildings. Outside the city centre, magnificent nature with fjords and mountains await, giving you every chance to hold your business meeting or incentive activity in style.
Unique architecture
Following a devastating fire in 1904, the entire town centre of Ålesund burned down to ashes, leaving 10,000 people homeless. The rebuilding of the town created one of Europe's most distinctive concentrations of Art Nouveau buildings. A stroll through the town centre reveals colourful buildings with a myriad of turrets, spires and original medieval ornaments punctuating the skyline.
Urban life
Ålesund is a charming, pulsating town with a varied cultural scene, exciting restaurants and a variety of shops. There are quite a few events in the area, representing a variety from skiing to music:
Take a stroll by the picturesque Brosundet and buy fresh fish and shrimps from local fishermen selling the day's catch. The beauty of the town can best be appreciated from Aksla, the mountain with the vantage point Fjellstua overlooking the town, which provides a stunning view of the entire scenic coast and fjord region.
Nature
Ålesund is situated by the entrance to the Geirangerfjord, a UNESCO World Heritage Site. The surrounding region is home to some of the most breathtaking sights and has many well-known natural and cultural gems. The profusion of fjords, waterfalls, fjord farms, small fishing communities, tiny islands and majestic mountains never fails to impress visitors.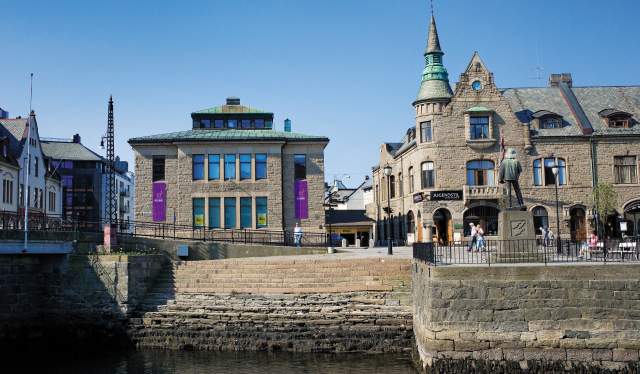 The Art Nouveau Centre (Jugendstilsenteret)
.
Photo
:
Tony Hall
Contact information
Destination Ålesund & Sunnmøre
Skateflukaia
NO-6002 Ålesund
Phone: +47 70 16 34 30
Website: visitalesund.com/meetings 
You can also contact Destination Ålesund & Sunnmøre staff directly:
Oddhild Breivik, Sales Manager MICE/Corporate
Phone: +47 70 16 34 33
Email: meet@visitalesund.com
By train

The railway station in the region is at Åndalsnes, about 120 kilometres from Ålesund, with a bus connection to and from Ålesund five times per day. The bus takes 2,5 hours. For timetables and booking, please contact the Vy (formerly NSB) and Fram.mr.

By bus

Several companies offer services throughout the region, and there are frequent connections to and from Oslo, Bergen and Trondheim. Information is available at Fram.mr. The journey from Oslo takes around 10 hours, and from Trondheim around 7,5 hours.

By boat

Many people describe Hurtigruten as 'the world's most beautiful voyage'. Hurtigruten calls daily at Ålesund and Torvik on both its northbound and southbound voyages. The northbound service also makes the Ålesund - Geiranger - Ålesund round trip daily from April to September, and Ålesund-Hjørundfjord-Ålesund in September and October.

By road

Driving from Oslo to Ålesund takes around 8 hours. The bus serving this route takes around 11 hours.

You can drive from Trondheim in around 5 hours, or a little over 7,5 hours by bus.

The drive from Bergen to Ålesund takes around 6 hours to drive or 9-10 hours by bus.

By plane

A 25-minute drive from Ålesund town centre, Ålesund Airport Vigra has good connections to and from Oslo, Bergen, Trondheim, Stavanger, Copenhagen, Amsterdam, Gdansk, Alicante and Vilnius.

There are also good connections from Ørsta/Volda Airport Hovden to and from most Norwegian towns and cities.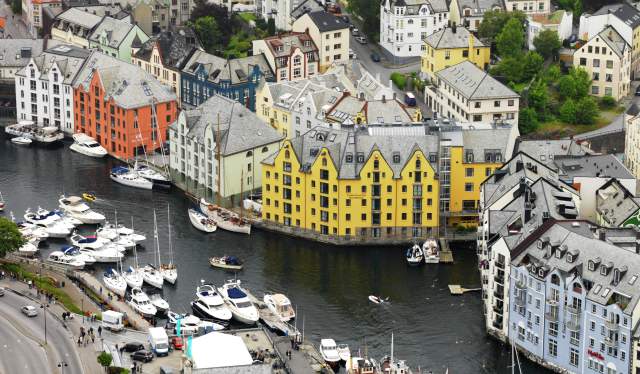 Ålesund
.
Photo
:
Terje Borud - Visitnorway.com
Key facts
Number of inhabitants: 47,000 (2016)
There are about 2,200 students attending the university NTNU in Ålesund
Ålesund is known as the "adventure capital of the fjords"
There are eight hotels in Ålesund centre with approximately 1066 hotel rooms, all within walking distance, in addition to 11 hotels in the surrounding region
There are conference facilities for more than 1,000 people
The Art Nouveau town of Ålesund is at the very entrance to the Geirangerfjord, a UNESCO World Heritage Site
Ålesund is a significant regional centre for the Sunnmøre County and a major export port
The marine and maritime sector along with the commercial clusters are important contributors to innovation and growth in the area.
Your Recently Viewed Pages