Trondheim to host the Bocuse d'Or in 2024
First, Norway won bronze. Then, Trondheim received the honour of hosting the Bocuse d'Or gastronomic competition in 2024. "Congratulations to the entire Norwegian team and to Trøndelag," says Acting Tourism Director Frode Aasheim at Visit Norway.
After two days of amazing performances in one of the world's most renowned gastronomic competitions, Norway consolidated its position as the most successful nation in Bocuse d'Or Europe's history. Not only that: it was announced today that Norway and Trondheim will be hosting the Bocuse d'Or Europe in 2024.
This year's bronze-winning Team Norway consisted of Filip August Bendi, creative developer at Thon Hotels, based at Oslo's Hotel Bristol, 20-year-old Leon Haarberg Nilsen, of Britannia Hotel, and coach Christopher W. Davidsen, head chef at Britannia Hotel.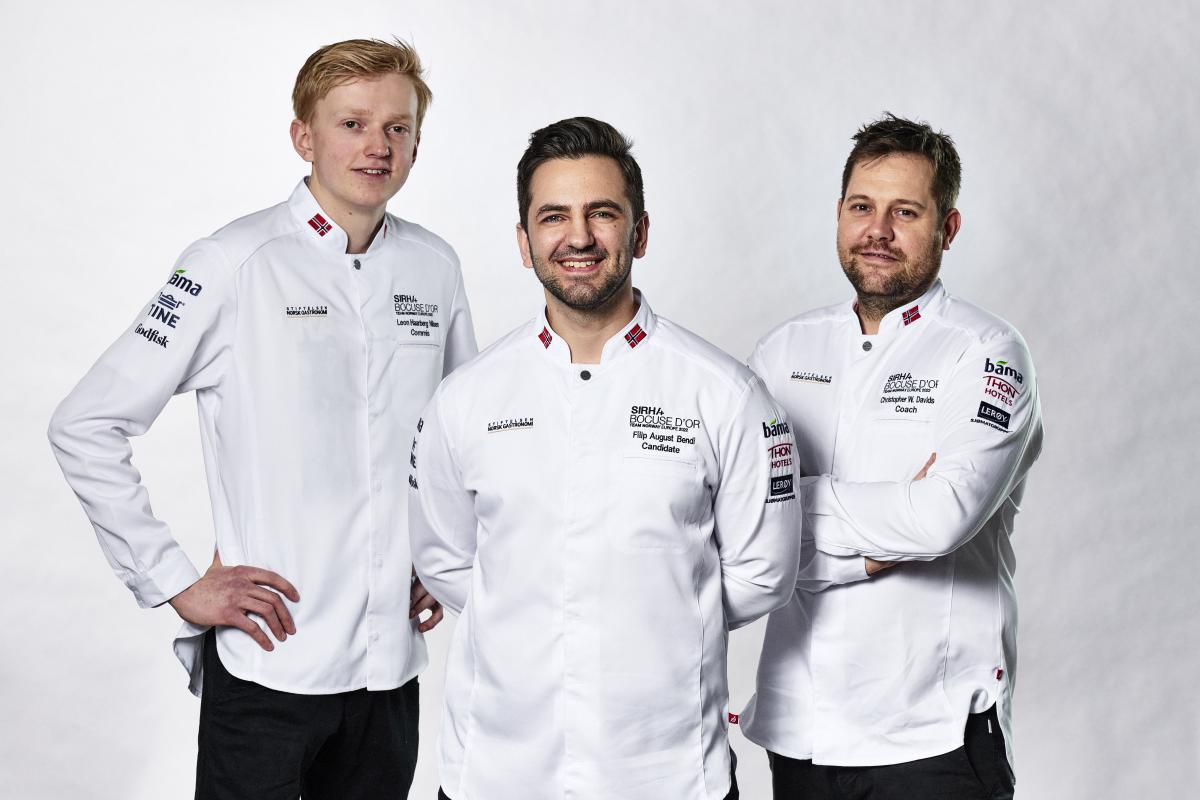 Trondheim to host Bocuse d'Or Europe 2024
"The fact that Norway and Trondheim are set to host the Bocuse d'Or Europe is helping focus attention on food and culinary tourism in Norway. Trondheim and Trøndelag is an exciting culinary region full of locally sourced food and excellent ingredients. It has also secured the title European Region of Gastronomy, awarded by the International Institute of Gastronomy, Culture, Arts and Tourism," says Aasheim.
 Denmark won gold in this year's prestigious competition, while host nation Hungary took silver. A large delegation from Trøndelag travelled to Budapest to cheer on Team Norway, and to receive the brilliant news that Norway and Trondheim have been chosen to host the event in 2024.  
Norway — a culinary powerhouse
The international competition is held in Lyon every second year. Since 2008, regional competitions have also been held in Europe, Asia, Latin America, and the United States. It is the European competition that will be taking place at Trondheim's Spektrum conference centre in 2024. Norway is a powerhouse in Bocuse d'Or and the nation with the most wins in competition history with 5 golds in the global competition and 5 golds in the European competition.
One of the visitors at this year's competition was project manager in Oi! Trøndersk Mat og Drikke, Kristine Riise. She is delighted with both the bronze medal and the news that Trondheim will be the new host city.
Putting Norway and Trøndelag on the map
"It's been fantastic to be part of the Bocuse d'Or and be privy to the work on food and gastronomy. It's part of the overall picture, this is like elite sports in our field. The strong commitment we have seen here is something we will also bring to recruiting and developing Trøndelag as a food region," she says.
Riise adds that securing the title European Region of Gastronomy and hosting Bocuse d'Or in 2024 will help promote the overall focus on food and culinary tourism in Norway and put Norway on the map as a leading food destination.  Since local produce and ingredients are used in the competition, Bocuse d'Or Europe will give local producers the chance to showcase themselves. Food enthusiasts from far and wide will no doubt be enticed to make the trip, which is why those who work to promote food from Trøndelag are especially jubilant.
As big as the Biathlon World Championships
Bent Stiansen was the winner of the first international competition and served as a judge at this year's competition in Budapest. He also manages Oslo restaurant Statholdergaarden. "This is the most important competition in the food industry, and it will garner a lot of attention for the region. It's as big as being picked to host the Biathlon World Championships," Stiansen told Norwegian broadcaster NRK.
Read more: Experience Norway's unique food destinations