Sustainability in tourism means caring for the needs of people living today without ruining future generation's opportunitites to meet their needs. Innovation Norway Tourism coordinates and assists tourist destination across Norway with sustainable development.
10 principles for sustainable tourism
Cultural wealth
To respect, develop and highlight the historical heritage of the community, authentic culture, traditions and character.
The physical and visual integrity of the landscape
To preserve and develop the landscape quality, both for cities and villages, so that the physical and visual integrity of the landscape is not degraded.
Biological diversity
To support the preservation of natural areas, wildlife and habitats, and minimise the devastation of these.
Clean environment and resource efficiency
Minimising the pollution by tourism businesses and tourists of air, water and land (including noise), as well as minimising the generation of their waste and consumption of scarce and non-renewable resources.

Strengthening of social values
Local quality of life and social values
Preserving and enhancing the quality of life in the community, including social structures, access to resources, facilities and public goods for all, as well as avoiding any form of social degradation and exploitation.
Local control and commitment
Engaging and providing power to the local community and local stakeholders with regard to planning, decision-making and the development of local tourism.
Job quality for tourism employees
To enhance the quality of tourism jobs (direct and indirect), including wage levels and working conditions without discrimination based on gender, race, disabilities or other factors.
Guest satisfaction and security; Quality of experience
To provide safe, satisfying and enriching experiences for all tourists regardless of gender, race, disabilities or other factors.

Economic sustainability
Economic sustainability and competitive tourist destinations through local value creation
To ensure the sustainability and competitiveness of tourist destinations in a long-term perspective, by maximising the value creation of the tourism in the local community, including what tourists leave behind of value locally.
Economic sustainability and competitive tourism businesses
To ensure the sustainability and competitiveness of the tourism industry in a long-term perspective.
Sustainable Tourism and Innovation Norway's Role
The tourism industry has wide effects on society at large. It impacts cultural development, the natural environment it is a part of, as well as the local and national economy. Innovation Norway Tourism's mission is to keep the negative impacts of the tourism sector at a minimum and assist destinations and tourism enterprises with sustainable development. 
Innovation Norway Tourism, amongst others, coordinates the tourism industry's efforts towards sustainable development at a national level. It is important to gather the tourism industry and facilitate consistent and systemtic efforts towards an increased focus on sustainable development. 
Sustainable development within the context of tourism takes into account social, environmental and economic aspects.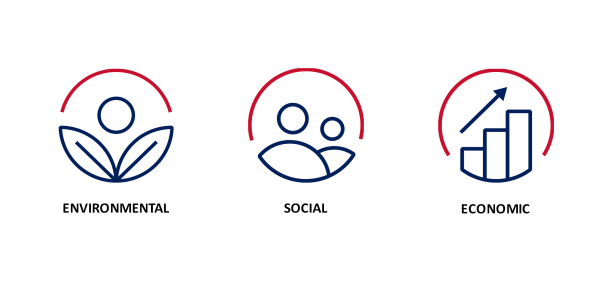 These are key factors when developing Norway as a more sustainable tourist destination: 
That value creation is spread throughout Norway instead of centered around a few tourist attractions.
That several year round jobs are created in order to spread and increase value creation, emloyment and development throughout the country. 
That travel destinations are kept well for future generations to get as much enjoyment from the destination's experiences as today. 
Reaching out to target groups that give high returns with low environmental impact
A program for implementing sustainable ambitions​

Innovation Norway Tourism has together with the tourism industry, research institutions and national authorities, developed the labeling scheme for sustainable destinations. The goal is to aid and facilitate the tourism industry in prioritizing sustainable development in their long term strategic operations. Norway was a forerunner in developing a national labeling scheme. The scheme is owned and run by Innovation Norway Tourism.
Sustainable Destination is the Nordic region's only national labeling scheme for travel destinations. The standard in the scheme is approved by Global Sustainable Tourism Council (GSTC), which means it covers international requirements for destination certifications.
The labelling scheme has been developed as a management system to systematise the work on sustainability for Norwegian destinations.
Being labeled as a sustainable destination means that destinations over time prioritize working the goal of increased sustainability , not that the destination is fully sustainable. The labeling scheme is a tool for the Norwegian tourism industry whom wish to prioritize sustainable development
The destinations must document their progress, set goals and develop sustainably in a long term perspective. Destinations that take part in the labeling scheme work to reach the scheme's wide standard which is composed of 42 criteria and 104 indicators which the destination  measured and monitored on. For the destination to keep the label they must document improvements every three years in accordance with the standard. 
A broad engagement in sustainable development
Apart from the label, we work broadly with several initiatives to integrate a sustainability perspective in the tourism industry's operations:
Green travel: making it easier for consumers to travel greener by showcasing environmentally-certified enterprises and products.
Offering courses for sustainable destination development and financial resources with sustainability as a criteria.
Recommending sustainable travel routes.
CO2rism, a project which will measure the CO2 emissions from transportation by tourists in Norway, in collaboration with NILU –  Norwegian Institute for Air Research.