Key figures for Norwegian tourism 2019, will be published in week 30-2020.
Even with strong growth in foreign visitors, the majority of those who spend their holidays here are Norwegians. Figures from Statistics Norway show that 70 percent of all holiday trips that Norwegians had in 2018 were in their own country. This is more than in 2017 and is largely due to the increase in shorter holidays, such as weekend trips.
In addition to Norwegians, it is the home markets that dominate. 93 percent of all commercial overnight stays come from Norwegians and Europeans. This means that seven percent of total overnight stays come from visitors outside Europe. The impression might be that the proportion is greater, and this is natural, since growth from countries outside Europe has been the greatest in recent years. The world's population travels even more, the world is perceived as getting smaller, and low-cost direct routes result in a change to the composition of those who visit us. In 2005, 11 percent of all foreign overnight stays were from countries outside Europe. Now this share is 23 percent. So not only will there be more visitors to Norway, but growth from overseas markets is greater than that from European markets.
Tourism creates pride
Norwegians are proud that foreign tourists choose to come here, and there is consensus that tourism provides increased prosperity, economic growth and employment. At the same time, resource administration in tourism faces several challenges. The travel and tourism industry in Norway is largely seasonal, with more than half of all overnight stays limited to the summer months from May to August. It is also during this period that there has been the greatest growth in recent years. The growth in the summer season is not evenly distributed throughout the country, but is mainly concentrated in specific limited areas.
High tourist concentration in limited periods of the year, creates new challenges, and residents of these overpopulated areas emphasise problems related to traffic and wear and tear on nature, and four out of ten think that tourists do whatever they like. There is also consensus that we could be better at earning money from those who visit us.
Cultural activities drive consumerism and value creation
As opposed to natural activities that are, in many cases, free of charge, thus cultural activities increase consumption. This is precisely why the combination of cultural and natural activities is important. Norway has a strong position in nature-based tourism. It is a foundation we should be proud of and build upon, but we must also add other values.
Experiencing nature is important for most people who spend their holidays here, and the wish to experience cultural activities comes in addition. If we are to ensure future growth, extend the season and gain increased value creation, we need to give people more reasons to choose us. Not instead of nature, but in addition to nature. We need to get better at giving of ourselves, developing a broader range of experiences, greater diversity, more culture and adventures, and demonstrate that a holiday in Norway is a sustainable alternative. The Tourism Survey shows that visitors, who today have interests that extend beyond experiencing nature, have a greater daily consumption and are more satisfied with their holiday in Norway. Read more about this and more in the brochure.
Innovation Norway conducts a series of surveys
Most of the data in the Key Figure overview is obtained from surveys conducted by Innovation Norway. The Tourism Survey provides a great deal of information about Norwegian and foreign tourists in Norway. An important aim is to document the importance of the tourism industry to the Norwegian economy. While the Tourism Survey is conducted in Norway, the Brand Tracker measures Norway's strengths and weaknesses at home and abroad. Does the target group have the associations to Norway that we would like them to have? The survey provides insight into motives for traveling on holidays and what determines whether to book a holiday in Norway. The latest addition is a survey of Norwegians, aimed at measuring Norwegians' attitudes to tourism, for better or for worse.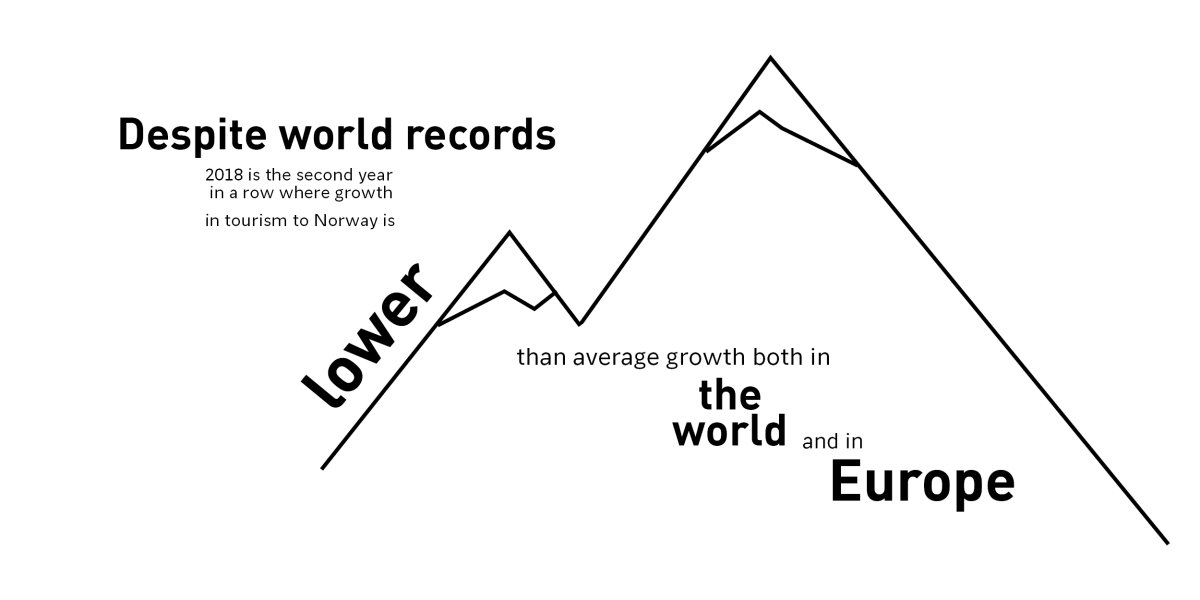 Contact us for market data
Key figures for past years:
2017: