Scroll down to see next activity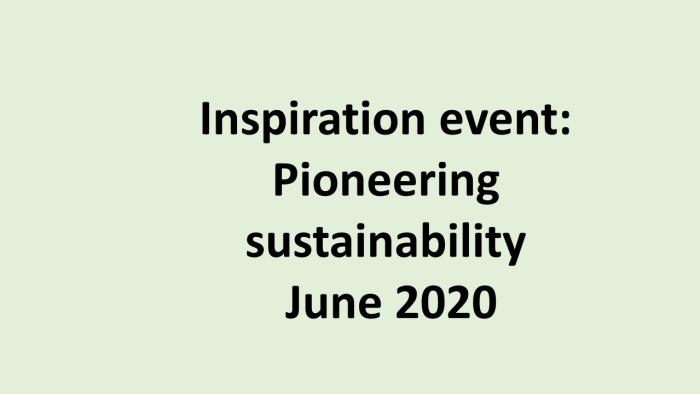 Technical Information
Price: EUR 2000,- ex VAT for participation per supplier
Includes:
Participation for 1 person
Time to present products/destination, networking with new and motivated buyers in the Netherlands and Belgium.
Transfer between countries.
Meals during the events.
Does not include:
Flights and accommodation
Public transport costs to/from airport
Meals outside of the scheduled program.
Minimum/maximum number of participants:
Maximum 4
Background & Goals
Norway is more than just «beautiful», and Pioneering Sustainability is one of the four defined stories within Brand Norway. Through marketing and proactive approach to new contacts we will attract customers interested in learning about Norway as a foreward-leaning and relevant destination, offering internationally recognized competence-networks, sustainable businesses and sustainability certified regions.
Suppliers must relate to the storytelling of Norway as pioneers in sustainability and clearly show how their destination or business is working with sustainability.
The event will consist of plenum presentations from Innovation Norway, Visit Norway and partners before individual meetings and networking activities.
The goal with the event is to
Inspire 10 contacts new to this subject in the Netherlands
Inspire 10 contacts new to this subject in Belgium
Quality approve 10 contacts for a (technical) famtrip fall 2020
Type of activity
B2B event / B2B network
We are introducing a new story about Norway through marketing, a live event and a famtrip. The event highly focuses on networking with new and motivated relations.
Who is this for?
Destinations/Convention Bureaus
Hotel
Venues
DMCs
PCOs
Product/activity providers
Highly appreciated providers who work with leisure clients
This activity is for suppliers already working in the Dutch and Belgian meetings market.
Suppliers must be able to show how they work with sustainability through company visions, products and/or connected experiences.
Example: Is your business eco-certified or takes measures to deliver to a sustainability minded client? Does your destination have internationally interesting research environments or businesses to promote?
Type of clients:
Meeting planners/corporate
Incentive houses (representing several companies)
Event agencies
Incentive agencies
PCOs
We are aiming to attract companies with interest in learning about and developing programs in Norway with sustainability in focus.
Buyers and/or their clients have a sustainability mindset. They should be interested in for example developing knowledge sharing or educational programs, focus on local food and resources, or programes based on wellness and use of natural resources.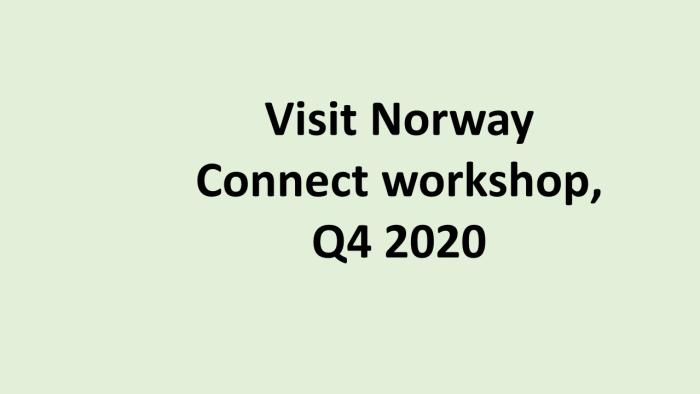 Technical Information
Price: EUR 550,- ex VAT per company (max 2 participants) for 1 day in the Netherlands + EUR 250,- per company (only as add-on) for 1 day in Belgium.
Includes:
Market seminar
Speed date workshop
Access to market manual
Lunch
If participating in Belgium: dinner and transport from NL to BE
Does not include:
Accommodation
Flights
Meals outside of the scheduled program.
Minimum/maximum number of participants:
Minimum 10 and maximum 25
Background & Goals
We see a need for a professional B2B meeting arena for Norway in the market. We therefore invite all our clients (touroperators, travel agents, MICE contacts) into one single arena, where they can be educated, inspired, make new business and network, all according to their different needs.
Goals:
-Educate a minimum of 10 new touroperators and/or travel agents about Norway as a holiday/business destination
-Ensure good quality meetings (overall average rating 8+)
-Ensure relevant partners (overall average rating 8+)
Type of activity
B2B workshop / B2B event
Visit Norway Connect will consist of different sessions, including, but not limited to: a speeddate workshop, a seminar, presentations etc.
We do this to ensure that "new" clients get inspired, whereas at the same time more "mature" clients find an arena to do business in.
Who is this for?
Including, but not limited to:
Activity companies
Attraction
Carrier
Destination/Convention Bureau
Hotel
Other accommodation
Incoming operator / DMC - regional
Incoming operator / DMC -national
Highly encouraged to apply are providers who:
work both with MICE and leisure clients
offer sustainable products
have efficient online booking solutions and/or ad-hoc availablility
offer cabins/huts
The demand for wintersports productcs/activities such as freeriding, skitouring and alpine skiing is relatively low, and the same goes for high-end and luxury products. There are other niche arenas that are a better fit for these providers (request us directly for more info).
Type of clients:
Tour operator
Travel agency
Event agency
Independent agents
We will invite all types of companies, and split them into different sessions throughout the event. Our goal is for you to meet the companies that are relevant for your product.
We invite clients from all over The Netherlands and Belgium, some are "mature" and have been selling Norway for years, and some are willing, able and ready to start selling. Warm leads only.
We invite both leisure and MICE clients.