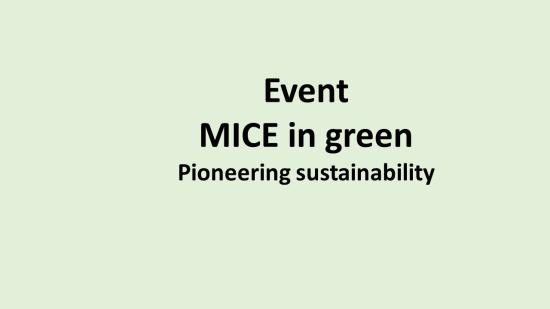 Technical Information
Price: SEK 7.000,- ex VAT for one participant. SEK 5.000,- ex VAT for extra participant at the same table/from the same destination.
Max 2 participants per table

Includes:
Time to present destination/product
Time to mingle and meetings with the invited agents
Meal during the event
Market insight
Does not include:
Accommodation
Flights
Local transport
Meetings in addition to attending the specific event
Meals outside of the scheduled program.
Minimum/maximum number of participants:
5 Norwegian partners, please see under "who is this for" for more detailed information regarding partcipants.
Background & Goals
In Sweden there is a strong focus to find sustainable travel solutions. The incresed need of MICE agents is now to find suppliers that can provide green MICE programs for their clients. To meet this need we wish to arrange an event to present destinations accessible by train/buss and providers with relevant certificates. We know of important clients, swedish leading companies, defining theire travel policy for internal trips as «0 flying». Meaning, that internal Kick Offs, Leaders meetings and other staff gatherings will be arranged at nearby destinations and locations. This is worring for many MICE agents in Sweden and we see this as a great potential for some destinations and suppliers in Norway.
•We aim for 10 agents to participate at this event
•Ensure good and relevant business contacts/meetings (Score +8 for relevant meetings)
•Increased knowledge for Norwegian partners about this specific potential in Sweden.
Type of activity
Event/Workshop
As more and more Swedish leading companies put their meeting strategy, saying "0 flying", in action, MICE Agents start looking for more sustainable solutions to offer to clients.
We wish for Norway to take a position in this as an interesting and unique supplier. To do this, we need to show Swedish buyers the options Norway has to offer.
Who is this for?
Destinations/Convention Bureaus
Hotel
Venues
DMCs
Other: transport suppliers (train/bus)
In this case we wish for destinations no more than 8 hours from Sweden by other transportation than airplane. Longer transportation during night time is accepted.
Sustainable certified suppliers, in these destinations, that can deliver a whole package can be relevant.
This event would work well if the Norwegian partner attending is a corporation between a destination, product suppliers (hotels, activity providers, transport suppliers etc), from that destination, and/or a DMC. The goal is to show possible concepts/packages for the Swedish buyers focusing on sustainable events.
Pioneering Sustainability is the theme for this event.
Experience of MICE clientele and flexibility in service is important. Agents in Sweden wish to be creative in achieving the customers goals for a specific company event.
Type of clients:
Meeting planners/corporate
The event targets MICE agents in Stockholm. Both new and known business contacts will be invited.
Agents looking for destinations nearby with accesibility by train and/or bus from Sweden.
The most important target area in Sweden, for Norway in general, are Stockholm and Gothemburg. As the event will take place in Stockholm this is where most of the agent's clients are based.