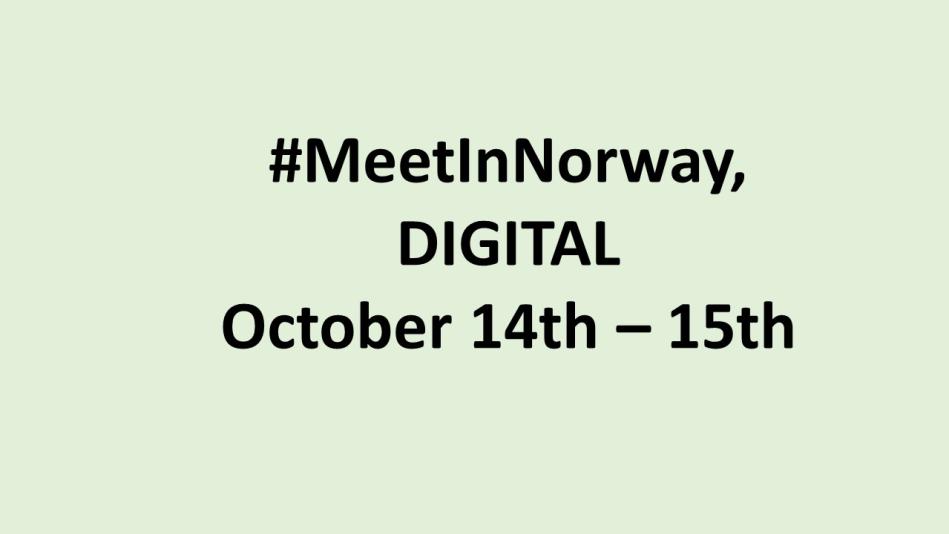 Technical Information
Price: NOK 10.000,- ex VAT for one participant/one company.

Includes:
Profile in a product manual
Market manual with information about the buyers
Appointment schedule with pre booked meetings
Social events included in the official program
Meals according to the official program
Does not include:
Accommodation
Flights and transportation
Meals outside of the scheduled program.
Minimum/maximum number of participants:
Minimum 12 and maximum 25
STATUS - changes caused by the corona pandemy!
Due to the corona situation Innovation Norway has decided to replace the planned physical B2B workshop with a digital version.
When: October 14th - 15th
For further information, please contact Kari Anne Schwach: kasch@innovasjonnorge.no
Background & Goals
Innovation Norway conducted #MeetInNorway for the first time in 2019 with the aim of establishing an annual event and workshop for Norwegian suppliers and international buyers of meeting and incentive products. #MeetInNorway is a B2B workshop with pre-booked meetings in combination with more informal networking through different social activities.
There will also be possible to apply for a fam trip after the workshop. Our goal is to be able to offer 3 different fam trips to different regions of Norway to the buyers attending. Please see separate criteria for fam trips. More information about deadline for applying etc. will come soon.
Those hosting a fam trip to their destination get a great possibility to show their offers and get to know the buyers and their needs even better.
Goal for the activity: 25 international buyers attending the workshop/event
Type of activity
B2B workshop and networking event
We are convinced that to bring the buyers to Norway give them an extra value, a value that you as a supplier will take advantage of. To experience the destination and the products, makes it easier for the buyers to sell Norway to their clients when they get back home. We also belive that a mix of a B2B workshop with pre booked appointments and a more informal event, is a good combination to optimize the ROI for all participatns.
Who is this for?
Destinations/Convention Bureaus
Hotell
DMCs
Product/activity providers
It will be a mix of buyers knowing Norway well already and buyers that never have been in Norway/sent clients to Norway. There will also be a mix of buyers from different industry sectors, meaning there will be a variety of what kind of suppliers/products they are looing for.
This activity suites for most kind of Norwegian MICE suppliers, if you fulfil the criterias for attending Innovation Norway's international B2B activities.
If you have not worked with the international MICE market before, this is a great arena to test the interest for your product towards international buyers.
Type of clients:
Meeting planners/corporate
Incentive houses (representing several companies)
Event agencies
Incentive agencies
Travel agencies
International DMCs
Since the buyers come from all industry sectors, there is also a huge variety in what they are looking for.
The buyers often look for new and intersting destinations and products to offer their clients.