Scroll down to see next activity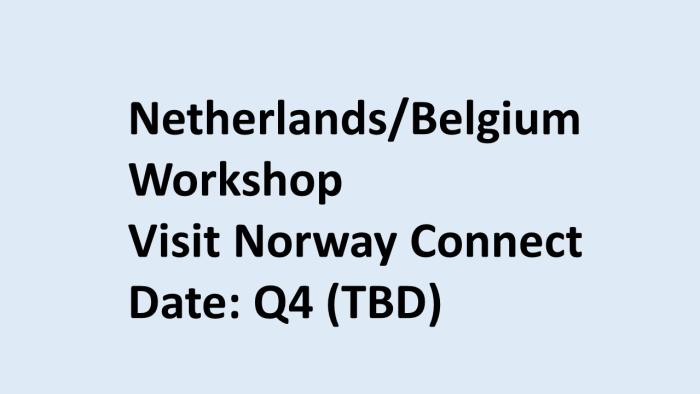 Technical Information
Price:
EUR 550.- ex VAT per company for the day in Netherlands
EUR 250.- ex VAT for workshop day in Belgium (only as add-on)
Max 2 participant per company
Includes:
Market seminar
Speed-date workshop
Access to market manual
Lunch
If participating in Belgium: dinner and transport from NL to BE
Does not include:
Accommodation
Travel costs
Transfers
Meals outside of the scheduled program.
Minimum/maximum number of participants:
Minimum 10 companies, Maximum 25 companies
Background & Goals
We see a need for a professional B2B meeting arena for Norway in the market. We therefore invite all our clients (tour operators, travel agents, MICE contacts) into one single arena, where they can be educated, inspired, make new business and network, all according to their different needs.
Goals:
Educate a minimum of 10 new touroperators and/or travel agents about Norway as a holiday/business destination
Ensure good quality meetings (overall average rating 8+)
Ensure relevant partners (overall average rating 8+)
Type of activity: Workshop / Event
Visit Norway Connect will consist of different sessions, including, but not limited to; a speed date workshop, a seminar, presentations etc. We do this to ensure that "new" clients get inspired, whereas at the same time, more "mature" clients find an arena to do business in.
Who is this for?
Activity companies
Attraction
Carrier
Destination
Hotel
Other accommodation
Incoming operator – regional
Incoming operator – national
Highly encouraged to apply are providers who
work both with MICE and leisure clients
offer sustainable products
have efficient online booking solutions and/or ad-hoc availability
offer cabins/huts
The demand for wintersports products/activities such as freeriding, skitouring and alpine skiing is relatively low, and the same goes for high-end and luxury products. There are other niche arenas that are a better fit for these providers (request us directly for more info).
Type of clients:
Tour operator
Travel agency
Event agency
Independent agents
We will invite all types of companies, and split them into different sessions throughout the event. Our goal is for you to meet the companies that are relevant for your product.
We invite clients from all over The Netherlands and Belgium, some are "mature" and have been selling Norway for years, and some are willing, able and ready to start selling. Warm leads only.
We invite both leisure and MICE clients.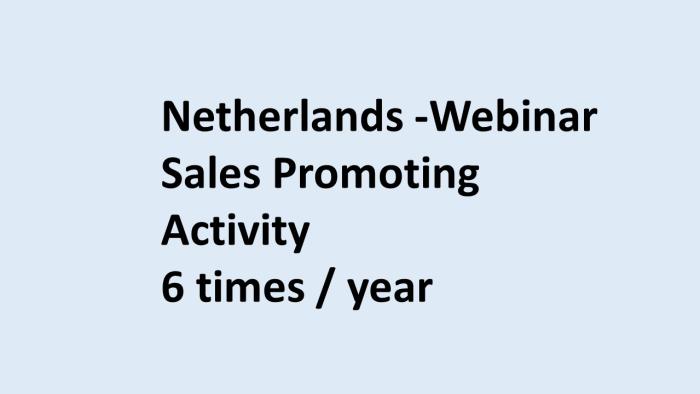 Technical Information
Price: EUR 300.- per webinar
Includes:
Access to a webinar platform (software solution)
15-30 minutes presentation time
Access to email adresses after the event
Does not include:
Preparation of presentation
Minimum/maximum number of webinars:
6 webinars in total throughout the year. Products / companies can be combined if relevant.
Background & Goals
We see a potential for education and sales promoting activities amongst travel agencies and sales agents. There is still a lack of knowledge about Norway and its possibilities. We need to strengthen Norway's position and stimulate that travel agents suggest Norway to their clients and have sufficient knowledge about the alternatives.
Goals:
Educate a minimum of 30 travel agents per webinar/activity for a specific product or destination
Type of activity: Webinar / Inspiration Event
A webinar can be organised entirely online – no need to travel to the market. It is an accessible arena with a wide reach.
An inspiration event in the market should be organised together with a tour operator and requires more planning and arranging. It is possible, but please allow more time and count on additional costs.
Who is this for?
Activity companies
Destination
Hotel
Incoming operator – regional
Incoming operator – national
1) We will either accept providers that have their products for sale via tour operators in The Netherlands and/or Belgium already or
2) We can also work with destinations, regions or "visits"
Type of clients:
Travel agency
Independent travel agent
Sales agents from tour operators
Every participant has the potential to sell Norway, as a tailor-made offer or via existing packages from touroperators or incoming agencies. Their customers range all the way from low-budget to luxury travels, from individuals to groups and from leisure trips to incentives.
(Hands-on) experience with and knowledge about Norway differs a lot from one agent to another.