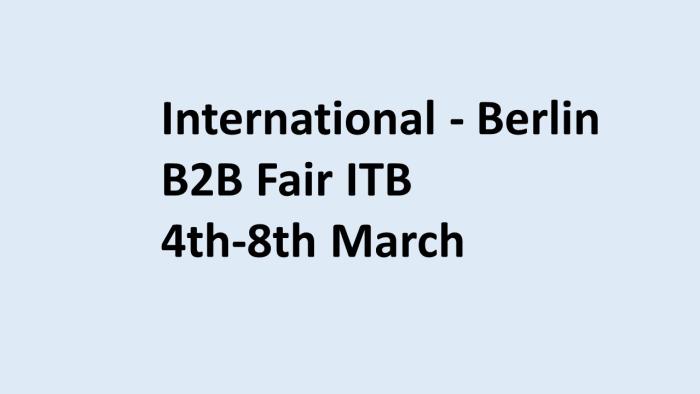 Technical Information
Participation with meeting table & info counter: EUR 5.850.-
Participation with info counter: EUR 3.780.-
Participation with meeting table: EUR 3.580.-
Includes:
Personalized exhibitor passes for a defined number of persons
ITB Virtual Market Place Registration
Does not include:
Accommodation
Travel costs
Meals
STATUS
This event has been cancelled.
Background & Goals
The ITB Travel Fair in Berlin is the biggest international tourism fair in the world. We do want to represent all of Norways Tourism on this platform and promote Norway as a travel destination for all interests and motivations. Important connections between travel trade professionals are in focus (new and existing ones). Also sales talks are to be made and participants always get an update on German speaking (as well as international) market trends and players here.
Our aim is to get sustainable travel more in focus. We therefore want get in contact with 5 (new) touroperators that focus on sustainability.
Type of activity
B2B Fair
This fair is THE strategic place to be and by having a stand with other Scandinavian countries, we strenghten our visibility. We offer meeting tables, info counter or a combination of both as well as passive brochure distribution to the suppliers to present themselves and have business meeting.
Who is this for?
Activity companies
Attraction
Carrier
Destination
Hotel
Other accommodation
Incoming operator – regional
Incoming operator – national
The ITB Travel Trade Fair is open for all kinds of tourism companies and we want to showcase all of Norwegians tourism products and companies here. Suppliers should be well experienced in working with the DACH market. It is important that all products are bookable and to have prices for following season ready. For the touroperators in the DACH market it is important that you deliver high qualitity, at a good price are reliable and quick in communication. CO2 compensation offers are rising. Sustainable travelling is a big issue in travel and general media.
Type of clients:
Tour operator
Travel agency
Transport companies
Independent agents
On the ITB fair all different kinds of touroperators, transport companies and customers serving all travel segments will attend and can be met in one to one meetings. This fair is the number one meeting place for travel trade worldwide.