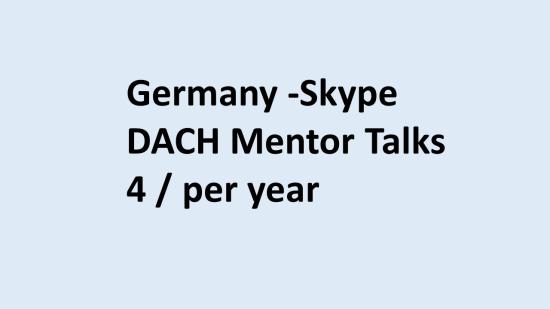 Technical Information
Price: EUR 250.-ex VAT
Includes:
1 hour session with market expert
Moderation by Innovation Norway B2B specialist
Does not include:
Technical support.
Stable and running Skype connection including camera

Minimum/maximum number of participants:
Minimum 1 and maximum 3 per session


Background & Goals
With these new Mentor Talks we offer a possibility to connect and get in contact with selected tour operators from the DACH markets. We offer direct market feedback and expertise to interested Norwegian partners in an easy-to-use and sustainable form of communication. This new offer will be at least held 4 times in 2020. The focus areas in the talks are planned to be on culture tourism, sustainable tourism, active tourism and whole year tourism offers.
Type of activity
Skype session
We want to offer an easy, personal and sustainable way to connect DACH market experts with Norwegian tourism actors looking for advice and experience.
Who is this for?
Activity companies
Attraction
Carrier
Destination
Hotel
Other accommodation
Tourism start-up
Depending
on
the
selected
tour
operator and his
specialization
(segments and target
groups
)
the
Norwegian
suppliers
are
invited
to
the
mentor talk.
We
encourage
all
suppliers
that
need
direct
market
feedback to register.

Suppliers
should
be
professional
, have
experience
and
interest
in
the
DACH
market
and must
actively
communicate
in English..
Type of clients:
Tour operators/experts with long expertise in the DACH market and with success in their travel segments are invited to join in the Mentor Talks. The selected tour operators/experts will have expertise in tourism to Scandinavia/Norway and in the different focus areas – culture tourism, sustainable travel, active travel or shoulder season.