Scroll down to see next activity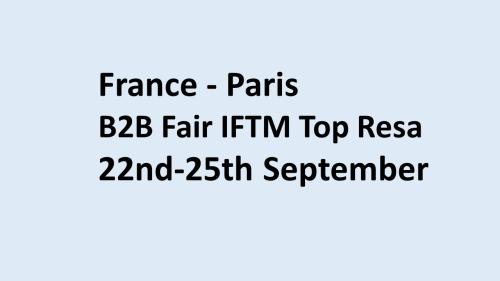 Technical Information
Price: EUR 3500.- ex VAT per company

Includes:
1 table with chairs at the stand
Visibility in all communications through the fair and access to the booking application for the meetings
Visibility in IN's communication
Does not include:
Accommodation
Travel costs
Transfers
Meals
STATUS
The fair has been postponed til mid-end November. We are still awaiting more detailed information from the organiser.

We will keep you informed.
Background & Goals
IFTM Top Resa is an excellent opportunity for Innovation Norway to review market trends and changes, meet media and tourism players.
We wish to propose the most efficient B2B arena in the French travel trade market to the Norwegian suppliers. IFTM Top resa is the place to be to boost your brand image, increase your sales and create new business. We meet our most important business contacts, already acquired and new, through scheduled and ad hoc meetings with decision-makers.
After 40 years of existence, celebrated in 2018, IFTM Top Resa continues to develop.
In 2019, the fair offered a large range of new services for both visitors and exhibitors : an application all inclusive, an online service with a brand new Chatbot and the creation of visiting paths around themes.
Our goals is to get to know at least 5 new TO / agencies and to introduce new potential buyers to our partners.
Type of activity
B2B Fair
It is vital for Norway as a tourist destination to be present at this fair, as the most important arena for French travel professionals. It positions Norway as a serious destination and allows us to reach out to many more agents/TO in a very efficient way.
Who is this for?
Destinations
Incoming operator – national
Incoming operator – regional
Activity companies
Carriers
Hotel chains
All types of products adapted to all types of clients. The investment is important so for small suppliers and niche products, it is better to be represented through destination companies or incoming operators. Products for groups and FITs , circuits, medium to high end market. Activities in nature combined with culture and food. Standard discovery of Norway and off the beaten track products. A good place to promote new seasons and areas. Advantage to participate with French speaking personnel
Type of clients:
Tour operator
Travel agency
Event agency
Independent agents
IFTM Top Resa is today a multi-target fair covering all motifs for travelling: Leisure, business, MICE & events, group market & digital.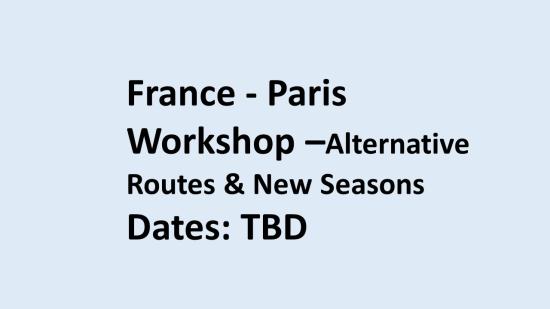 Technical Information
Price: EUR 700.- ex VAT per person

Includes:
Market manual
Meals: lunch & coffee breaks
Workshop
Does not include:
Accommodation
Travel costs
Transfers
Famtrip
Minimum / maximum participants:
Max 15 suppliers
STATUS
The decision to eventually cancel the event will be taken during this Summer.
If the decision turns out to be a cancelation, then we will undertake a digital version of the event.
Background & Goals
The French market has reached maturity. Time is ripe to start working more targeted around new products and seasons with a goal to increase number of TOs selling «Alternative routs and new seasons». This is a targeted workshop to obtain longer exchanges around a theme.
Goal : 20 product managers
The workshop will consist of :
Inspirational introductions
Presentation of innovative products and/or new destinations for to French tour operators.
Teamwork with suppliers, destinations and buyers
Each team will work on creating a specific tour by thinking out of the box. Tours must have elements of : Activities : in nature, culture - meet the locals - and local food.
Presentations and discussions around the products.
The workshop will be followed up by a Fam Trip based on theme and elaborated program
Type of activity
Targeted inspiration, product development and competence day
We want to push and stimulate sustainable production, off the beaten track all year. We have experienced that targeted workshops/ events have given us more outcome in the later years.
Who is this for?
Activity companies
Attraction
Destination
Hotel
Other accommodation
Incoming operator – regional
Incoming operator – national
The supplier must be ready for the French market. The destination must have alternative routes and open structures outside high season. Niche products are welcome.
Type of clients:
Tour operator
Travel agency
Event agency
Independent agents
Buyers are handpicked by IN and will be exclusively product managers / decision makers.
Products for :
FIT and groups
Medium to high end
All types of activities and providers