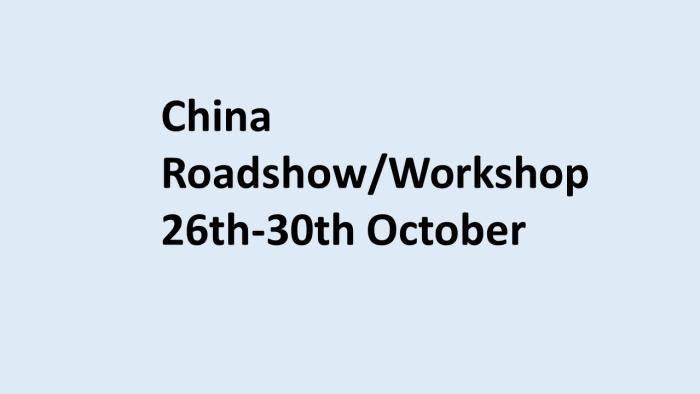 Technical Information
Price: RMB 9.500,- ex VAT per company

Includes:
Roadshow in China, HK and Taiwan
Venue
Description in Product Manual
Lunch at the workshop(s)
Farewell dinner
Airport group transfers
Does not include:
Accommodation
Travel costs
Meals outside of the scheduled program.
Minimum/maximum number of participants:
Minimum 50 and maximum 74
Background & Goals
China is one of the most important tourist source markets in the world and it is developing very fast, which is also the market that Norwegian trade needs to treat seriously. In order to help Chinese tour operators to understand our sustainable travel concept and product, the roadshow in China could effectively bridge the Norwegian and Chinese trade.
Goals:
•
Ensure good quality meetings (overall average rating 8+)
•
Ensure relevant partners (overall average rating 8+)
•
Ensure relevant agents (overall average rating 8+)
•
Showcase Norwegian
sustainable
travel
concept
and
product
•
Increase
the
lenght
of
stay
for
travellers
to Norway
•
Extend the seasons and cover more regions
Type of activity
Roadshow / Workshop
China market is huge and segmented from city to city so we do need to participate in different activities to meet the needs of tour operators from different cities.
Depending on the cities, we will host roadshow/workshop/seminars/event to meet and network between trade and agents. Through carefully selected B2B Fairs, we will increase our visibility in the market to attract attentions from local travel trade.
Who is this for?
Activity companies
Attraction
Carrier
Destination
Hotel
Other accommodation
Incoming operator – regional
Incoming operator – national
Partners should be delivering good products all year, encouraging travellers spending more time and more money in Norway, and preferably during the period October – April. The soft adventure and interactive products are welcomed.
Type of clients:
Tour operator
Travel agency
Event agency
Indenpent agent
We encourage agents focusing on
•
FIT/high end /small groups/incentive groups
•
Medium size groups with in-depth itineraries in Norway
•
Norway as a mono destination
•
Sustainable/ responsible tourism
Marketing Package
Price:
34.500 CNY (full package)
17.800 CNY (basic package)

Activity 2b Marketing Package China

Full package includes: 3-city roadshow, min. 4 articles/year in monthly EDM to Chinese travel trade and media, highligts on products and services in seminars/sales trainings/routine promotions, partners profile featured on the B2B website of STB China, brand or services promoted min. 10 times/year via SoMe, quarterly report on deliverables

Basic package includes: Same as above, EXCEPT the 3-city roadshow