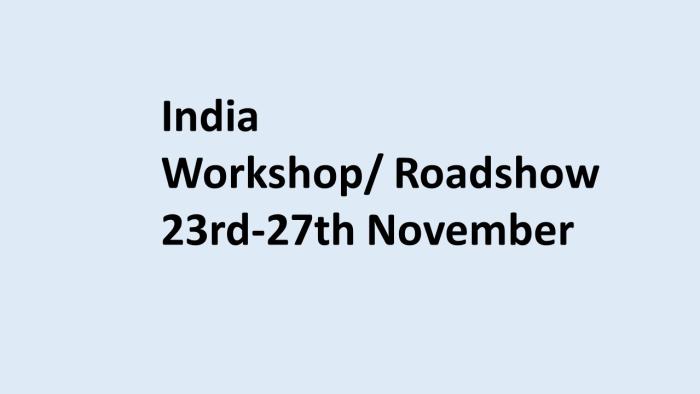 Technical Information
Price: USD 4.400.- ex VAT
Includes:
Venue locations
Networking lunches in 3 cities
1 press briefing
Online product manual
Promotion to travel trade at seminars, newsletters, training sessions
Does not include:
Accommodation
Travel costs
Minimum/maximum number of participants:
Minimum 125 and maximum 200
STATUS
This roadshow has been cancelled. 
We have decided to replace it with a virtual seminar 23rd & 25th November. 
Deadline to register 10th October
Find the information here. 
Background & Goals
India, a decade old initiative of Norway, Denmark & Sweden where travellers mostly visit all 3 countries together.The focus currently is the 4 metro cities: Delhi, Mumbai, Bangalore & Chennai
Aprox. 80% of travel is booked via Travel agents or Tour operators
India is a highly fragmented market.This B2B activty provides and opportunity to not only meet Norwegian business partners but an opportunity to train travel professionals on the destination and showcase new regions or routes.

Goals:
•
Ensure good quality meetings (overall average rating 8+)
•
Ensure relevant partners (overall average rating 8+)
•
Ensure relevant agents (overall average rating 8+)
•
Showcase Norwegian
sustainable
travel
concept
and
product
•
Increase
the
lenght
of
stay
for
travellers
to Norway
Type of activity
B2B Scandinavian Seminar 2020
India: Dehli, Bangalore & Mumbai
Business meetings are organised for travel trade in 3 cities to meet the visiting Scandinavian Partners. The business sessions are from 9:00 AM to 4:00 PM including networking lunch.
In Delhi it is also followed by Press Briefing
Who is this for?
Activity companies
Attraction
Carrier
Destination
Hotel
Other accommodation
Incoming operator – regional
Incoming operator – national
Indian travel companies are keen to meet Hotel chains with high inventories, small boutique and luxury hotels, Activity, soft adventure & Ground handling services, Companies that offer customised and highly personliased services, Companies that offer FIT products for small groups – all women, friends or family traveling togehter, Heritage hotels, Unique hotels, MICE DMC's
No exceptional or prior experience required: We suggest they join the project in the beginning of the year so we can conduct overview sessions and help them plan prior to them arriving for B2B workshops.
Type of clients:
Tour operator
Travel agency
Event agency
Indepedent agents
Online tour operators
Large companies with multiple offices across India, Regional or local small & Mid size companies that are already engaged in promoting Scandinavia, Europe and a few other potential companies that promote Australia, NZ, South Africa, USA & Cananda
We will invite decison makers, Product managers, company owners, Senior management of large companies & Operation managers